Well, I don't know where the hell October went, but I just realized it's November 5 and I haven't done October's snapshot. So here we go!
Stats...
Age: Four going on 14

Clothes size: 5T or kids XS (4/5)

Shoe size: 10W
Favorites...
Food: All of a sudden, she loves Chipotle. And my heart is about to burst. She has actually requested it three times this month... #thatsmygirl


Book(s): Mariposa and the Fairy Princess (Golden Book), and a Monsters vs. Aliens "chapter" book I got for her at our library's book sale. She loves to pretend to read it to her babies and stuffed animals :)


TV Show(s): Still in love with Paw Patrol; reigniting her love for Bubble Guppies, Sofia the First (we are waiting with Bated Breath to see the Princess Ivy episode!), and I don't know why, but she got into watching Mia and Me (or whatever it's called) on Nick Jr, but sometimes it's "too scary" for her. Who knows.


Toy(s): Not really a toy, but she's obsessed with making "tents" lately. She drapes any old blanket over any old thing, climbs inside and it's a tent. She has an actual Disney Princess play tent -- and she does play with it, but not the way it was intended. She turns it on its side or completely upside down and climbs in and out of it. Whyyyy.



Milestones...
Knock on wood (or computer screen) but she hasn't had a #2 accident in her panties lately. She has been doing GREAT with her routine chart and sticker system; not getting out of bed a million times (she will get up and go potty about 4 times before I have to threaten her with taking a check away if she gets up one more time to squeeze out a drop of pee), and most importantly, NOT calling out for me or Jerry 7 or 8 times before she finally falls asleep. I hope I didn't just jinx it, but I'm happy so far with her progress.
Challenges...
All that I just said... she IS having trouble with going to sleep. She tells me she's not tired -- in between jaw-cracking yawns and with dark circles under her eyes -- and says she doesn't want to be alone in her room. She just needs "a little company". Last night I had a mini panic attack moment when I was looking at her, and thinking about Caroline sleeping in the next room. They are just growing TOO fast, so I stayed in Emily's room with her a little longer and sang her two songs and made her giggle. It's a constant struggle with myself.. I want to be consistent and teach her how to soothe herself and be by herself, but I also want to just squeeze her and pet her and not let her grow... #uglycryingnow
And because it's October's Snapshot, you knew there would be a Halloween costume photo!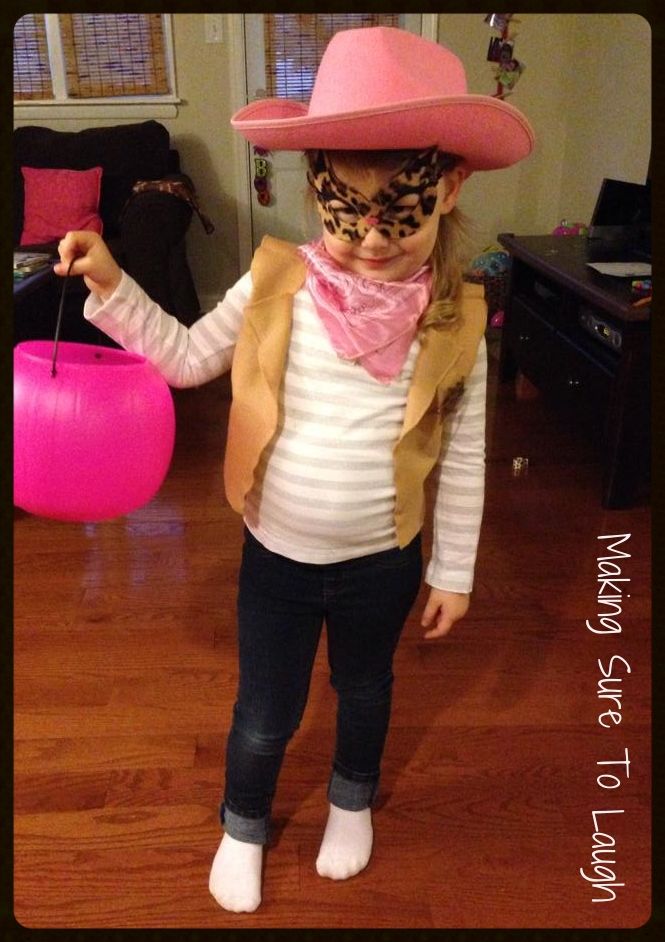 This year, she decided to be
Sheriff Callie
, and I have to say I'm really happy with how it turned out. I found that leopard cat mask in the Target $1 Spot. I MADE the vest out of felt (just don't look too close), and the hat and bandana were $5 at Walmart. It's hard to see, but she's wearing the sheriff's badge with her name on it that we got in Williamsburg; the hat and bandana actually came with a plastic badge, but we went with the "real" thing. She didn't have boots that fit her (she was a cowgirl two years ago and just luckily fit into some pink cowgirl boots I bought in 2005 for our niece) so she wore her pink rain boots. Because why not?
_________________________________________________________________
Age: 15 months in October...

Clothes Size: anything from 24 months to 3T -- #chunkyshortgirlproblems

Shoe Size: I think Toddler 6 now, but I really need to take her to get her fat little feet measured for some real shoes -- see below under Milestones for why ;)
Favorites...


Food: Bananas. I will just go towards the fruit basket and she'll say "yay you, nananaaaa" (thank you, bananaaaa). SO cute I have to give her a banana. She loves just about everything, especially whatever's left in her chair after she gets down from dinner ;)


Book
: We have this book; I think it was a birthday gift for her and I don't even know what it's called off the top of my head but it's about a pond and how all of the creatures around the pond are its friends or something, and there's one part where it says "I sunbathe with the turtles" and when Jerry reads this part, she turns around and looks at him, waiting for him to throw his head back and go "ahhh" just like the turtles in the picture. Every. Time.
Miss Shirley put her hair in pigtails on this day -- for the first time. And I'm dying over how cute!
Caroline loves books. She will pick up any old book laying around and bring it to you and say "yay youuu" (aka thank you -- which is her universal term that also means "please", and "that's enough, stop tickling me") until you read it to her. Or start reading it to her and after the first page she's over it. #thiskid
Her favorite "car" book (book we leave in the car) is a Baby Einstein book that has the buttons on the side that make sounds coordinating with the story. Sometimes she pushes the same button constantly and Emily says "Care-ruh-LINE! Pick a different sound; that one's annoyin' me." #tookthewordsoutofmymouth
Toy: It's not a toy (seems to be a trend with my kids, to play with things that aren't really meant to be "played" with) but she has been obsessed with Emily's old lunchbox. So much so that I stopped putting her daily snacks/lunch in the Rachael Ray lunchbag I was using and started putting them in the lunchbox and letting her carry it. Problem is, she won't give it up once we get in the door. More than once I've had to take the cold stuff out of it and give it back so she could carry it around with her everywhere. Darling.


Milestones...
Apparently I have ZERO pictures and one very short video of it... but CAROLINE IS OFFICIALLY WALKING!!!!!!!!!
Seriously, you guys. YOU GUYS... she's walking. It took her so long, but she's getting better and better each day. I need to get her in to have her foot sized so I can get her some really good shoes so she can really start taking off, especially outside. She does great on hard floors, and even carpet, but grass, leaves & stones are a little harder for her since she's still a little unsteady. BUT I'm so beyond thrilled because I was a little worried that she was never going to walk ... well not really worried, just slightly concerned. I wasn't really in a hurry for her to start walking... see above #uglycryingnow Ugh.


Challenges...
Caroline has started to get a little attitude on her. She is full of sass and is not afraid to tell us "NO". Now that she's mobile, she's not really into sitting still that much. Which is a little tough for us, but really, she -- personally -- doesn't have many challenges. She's pretty content. She has an issue with hitting and trying to push other kids away from what she wants to play with. It's actually so adorable when she does it, but regardless, we have to tell her no...share...be gentle (almost as much as we have to tell Emily the same things -- maybe more). But she gives smiles and kisses rather freely and she is just so stinking cute... ;)