WOW. It's been a really long time since I did a blog post. But since I want this to be a sort of scrapbook for me, I definitely wanted to come back and do a snapshot of the girls.
Today's my 29th birthday, so if anyone at work catches me blogging, hopefully that will be a good enough excuse...
Snapshot - August 2014

Clothes size: 5T or kids XS (4/5)
Food: Yogurt & granola bars


Book(s): Barbie Mariposa, and a British fairy tales book I got at a consignment shop


TV Show(s): Sofia the First & Bubble Guppies


I don't know why, but she's been having a few bathroom accidents lately. I think it's a combination of wanting attention, being a little bit lazy and just being too into what she's doing to stop and go to the bathroom. It's definitely not to the point of being a problem, and I'm sure by the time she goes to Kindergarten (this time next year OMG) she'll be accident-free...
_________________________________________________________________
Age: 13 months in August
(but I just tell everybody she's ONE)

Clothes Size: 24mo/2T
(her fall wardrobe is basically going to be a lot of leggings and blousy shirts #rollsfordays)
Food: Ritz crackers, blueberries, and just about everything else -- we've stopped buying the Gerber raviolis because she isn't crazy about them anymore, and for some reason she's balking at meats (I split a hamburger with her the other day and she didn't eat much of it -- although she might have been too full from all the Ritz crackers she ate while waiting).


Book
:
Is Your Mama A Llama?
Jerry reads this to her every night while she has her milk and it's their special time together. If I read it to her, she looks at me like, "Ugh. Where's Daddy?"
Toy: It's not really a "toy" but her favorite thing to do right now is to crawl over to the DVD drawer and pull them all out. Then she sits in the middle of the pile and looks at the beautiful mess she's made. She also really digs going into "sissy's" room and pulling out all the books and bins. She will actually play with the blocks and the princess castle.
She also pretends anything and everything is phone and puts it up her ear and says "woh" (hello). Emily used to do this too, used anything as a phone :)


Milestones...
She can say a few more things now -- most prompted. She says: hi, thank you, (sometimes) please, sissy, Emmy, papper, and nuh-night. She blows kisses (with the back of her hand and a "muh" sound -- I die), she waves hi and bye, and has started pointing.

She is THIS close to walking. She cruises around the furniture and can stand for a few seconds without holding on to anything. When she sits down from standing, she lets go and very slowly and controlled squats down onto her butt. I think she has all the tools and skills to walk, but she just hasn't gotten up the confidence yet. If she's standing and you put your hands out and say "come to me" she just gets down and crawls...
Challenges...
Right now it's a bad diaper rash. I think I might actually have to take her to the doctor for it. It's been a while -- it will go away then come back looking ugly.

She's such a good baby -- she only really fusses when she's hungry and food isn't getting onto her tray fast enough.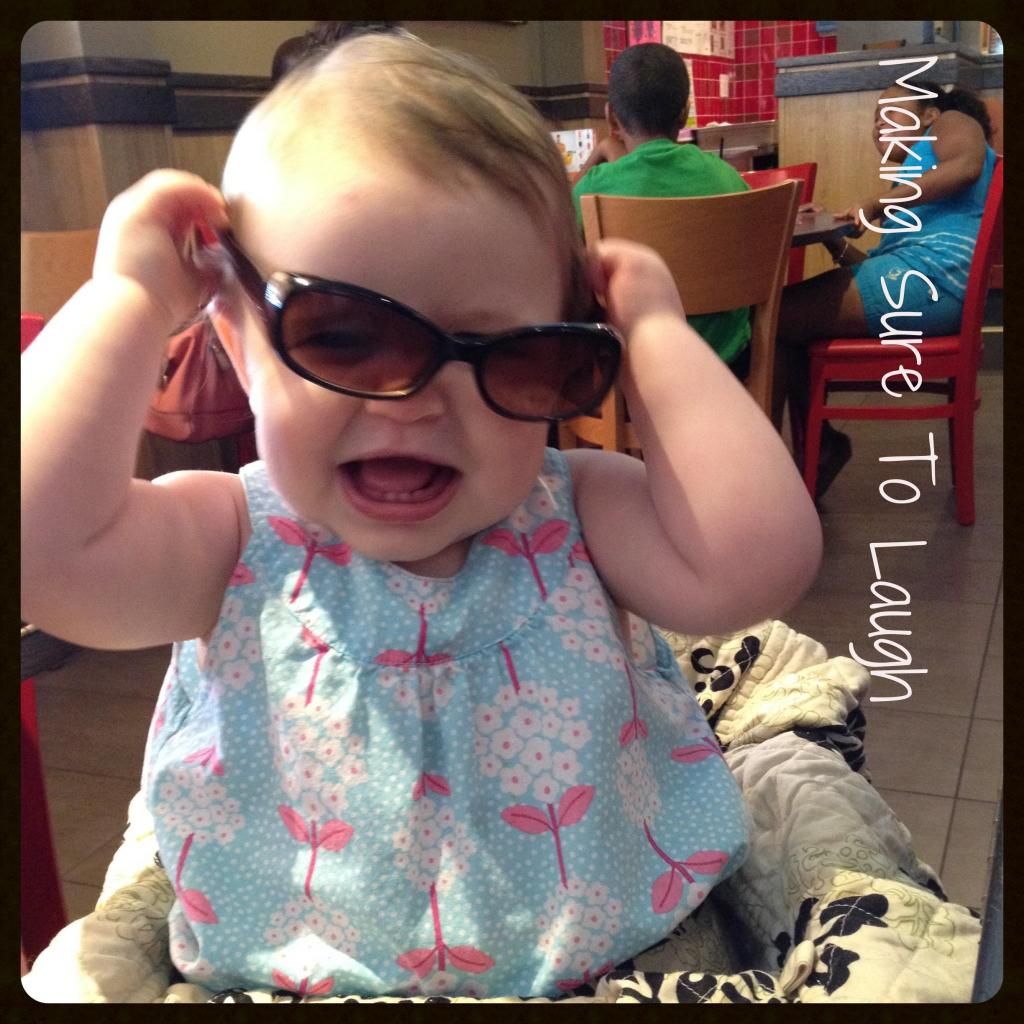 Playing with Mommy's glasses at lunch. She loves to put glasses on, and can actually do it correctly. Sweet girl :)
So that was August. We are moving right along into September and I'm getting really excited about decorating for Fall. And actually just for Fall in general. I love the cooler weather, the pumpkins, and all that leads up to Christmas. :)
And I'm also really excited about September because I'll be receiving my Erin Condren Life Planner in the next couple weeks and I can't wait to fill it up -- it's going to have
so much room for activities
!! :)
Happy Hump Day, yins.