Holy crap it's August.
Snapshot - July 2014

Clothes size: 5T or kids XS (4/5)
Food: What she's been asking for most (other than the ever-loved PBJ) is yogurt & bananas. She loves blueberry waffles but for some reason won't eat blueberry pancakes...


Book(s): She got a few new Golden Books for her birthday and loves them. I usually judge her favorites by the ones she keeps in her bed, and right now there are two hidden-picture type books from Chick Fil A that she has been obsessing over every night. She also really loves to "read" Caroline's board books to her and it is the cutest thing ever.


TV Show(s): Paw Patrol...still. She also will tolerate Bubble Guppies, Ella the Elephant, and good old Sofia the First & Jake and the Neverland Pirates.


Toy(s):
Her new Elsa Barbie doll that she got for being a brave girl during her 4 year immunizations. Raggy has been making a comeback as a dress-up accessory. Sometimes it's Elsa hair (she puts the raggy on her head then secures it with a tiara, duh), and sometimes it's a hula skirt/waitress apron:
Click HERE for the story about her hula dance.
Milestones...
As I mentioned above, she had her 4 year check up and immunizations last week, and she was a total champ. She cried during the shots, but wasn't hysterical and stopped pretty quickly. She doesn't have to get shots again until she's 11 and the fact that she's completely done with all her baby vaccinations is huge to me.
She started ballet classes (well, she's done one drop-in -- her actual classes start the first week of September) and I'm convinced there's nothing cuter than a little girl in a black leotard and pink tights!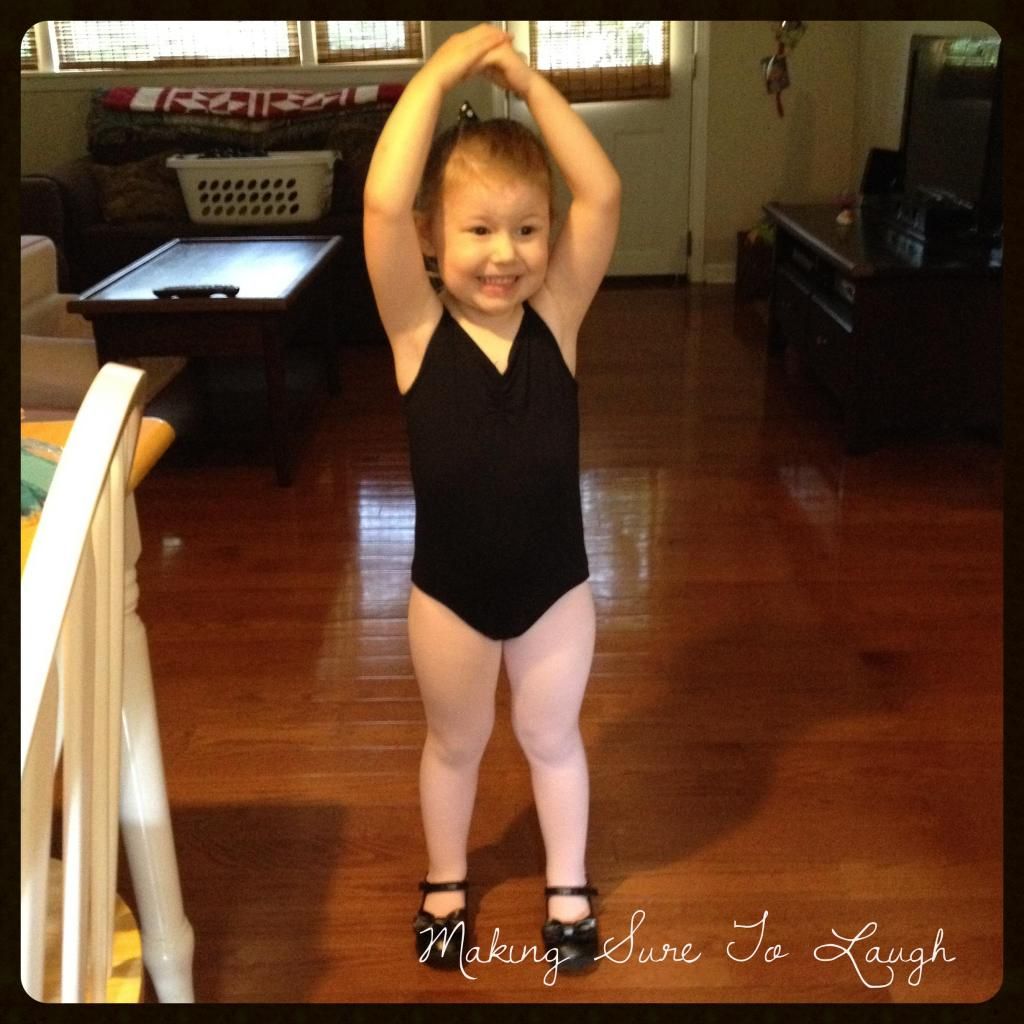 She is just generally growing up into a real little person; physically stretching and thinning, but also mentally and emotionally growing. She's beginning to understand other people's feelings (although at this age she still puts herself first, which is natural), she does a lot of things for herself (the doc said she can start doing simple chores like taking her plate to the sink and putting her dirty clothes in the hamper -- she's been doing these things and more for the last year! go me!)...
Challenges...
On the flip-side of her being more independent and thinking for herself... She has gotten a real attitude on her recently. Just straight up telling us "no" and ignoring us and generally being a complete brat sometimes. Somedays she's sweet as can be and listens (for the most part) but other days it's all I can do to not scream into a pillow.
_________________________________________________________________

Shoe Size: I put her in Emily's old Nikes and I think they are a size 5
Food: It's easier to name the foods Caroline won't eat -- none.
Caroline likes all. the. food.

Also, she has started being Miss Independent when it comes to squeezies. She has decided that she knows how to do them by herself; nevermind the fact that she squirts half of it out before it ever reaches her lips.


Book: Any book her daddy reads. Somehow he can get her to sit still in his lap and read a couple board books. He has a very good reading voice and she always seems so mesmerized by his stories :)
Toy
: It's not so much which toy she has, it's what she does with it. And what she does is bang it on any surface available, including my head/face/legs/arms, but usually the table or floor. She's loving her choo-choo.. and just opening the toy drawer and throwing all the toys behind her gets her a good 5 minutes of entertainment. Another 5 if I pick everything up and put it away, just for her to tear it up again.
"Well, my work here is done...everything is on the floor." --Caroline
(and look at those tiny feet!!)
Milestones...
Umm, well... she turned one. That is a big enough milestone for me. July was full of birthdays and cupcakes and pulling herself to standing on just about anything (the coffee table, my legs, sissy's bed)

She's getting a few more teeth. She's working on the top four and now I can see the two on either side of her bottom teeth. Pretty soon she's going to have a nice set of front chompers. The better to bite your finger with...
Challenges...
Still not walking yet. She doesn't even really cooperate when you hold her hands and try to get her to take steps. She either pulls her legs up kitten-style or just sits her wide butt down. But we have noticed that she does a little better when she has shoes on.