Yeah so, it's taken me a little longer than I expected to get this post up. The week kind of got away from me. Anyway, last Saturday we had a family cookout/birthday party for Caroline... it kind of turned into a dual party for Emily and Caroline, which is kind of what I didn't want to happen, but oh well. Everyone had fun (I hope) and now my girls are officially FOUR and ONE. Sad tear.
So let's get to the pictures from Caroline's party! It was extremely hard to pick my favorites from the dozens of pictures my sister took. But I didn't think we needed 92 pictures in one blog post. You're welcome.
I did very minimal decorations for the party, but I decided I would bite the Pinterest bullet and try a tissue paper tassel garland. I did the first few tassels and the girls' daycare mom, Patti, ended up doing the rest (over the course of a few nights, while I was doing some sewing projects for her Disney cruise...tit for tat?).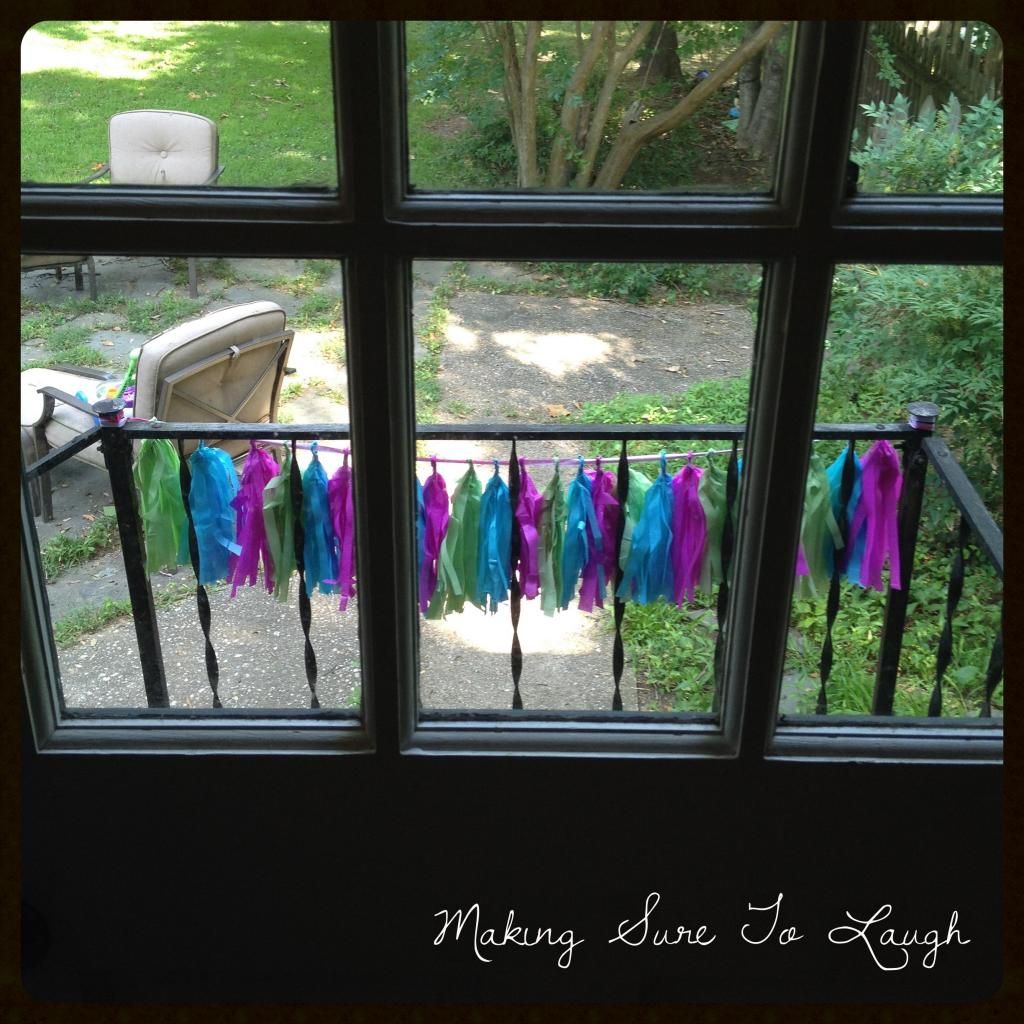 They turned out awesome, even though my mom and I were at Walmart until 11pm the night before the party looking for baker's twine or something to hang the tassels by. We happened upon this pink ribbon that ended up being PERFECT (and I'm sure no one even noticed it..)
Another Pinterest-inspired/copycat project I outsourced was this "1" in pictures from Caroline's first year. I couldn't figure out how to make a #1 and almost decided to just to a C, but my sister made it happen. She's pretty awesome like that.
The picture below was taken just before the party, and I wasn't home. I was driving to my office and back to get a battery-powered air pump for the blow up pool.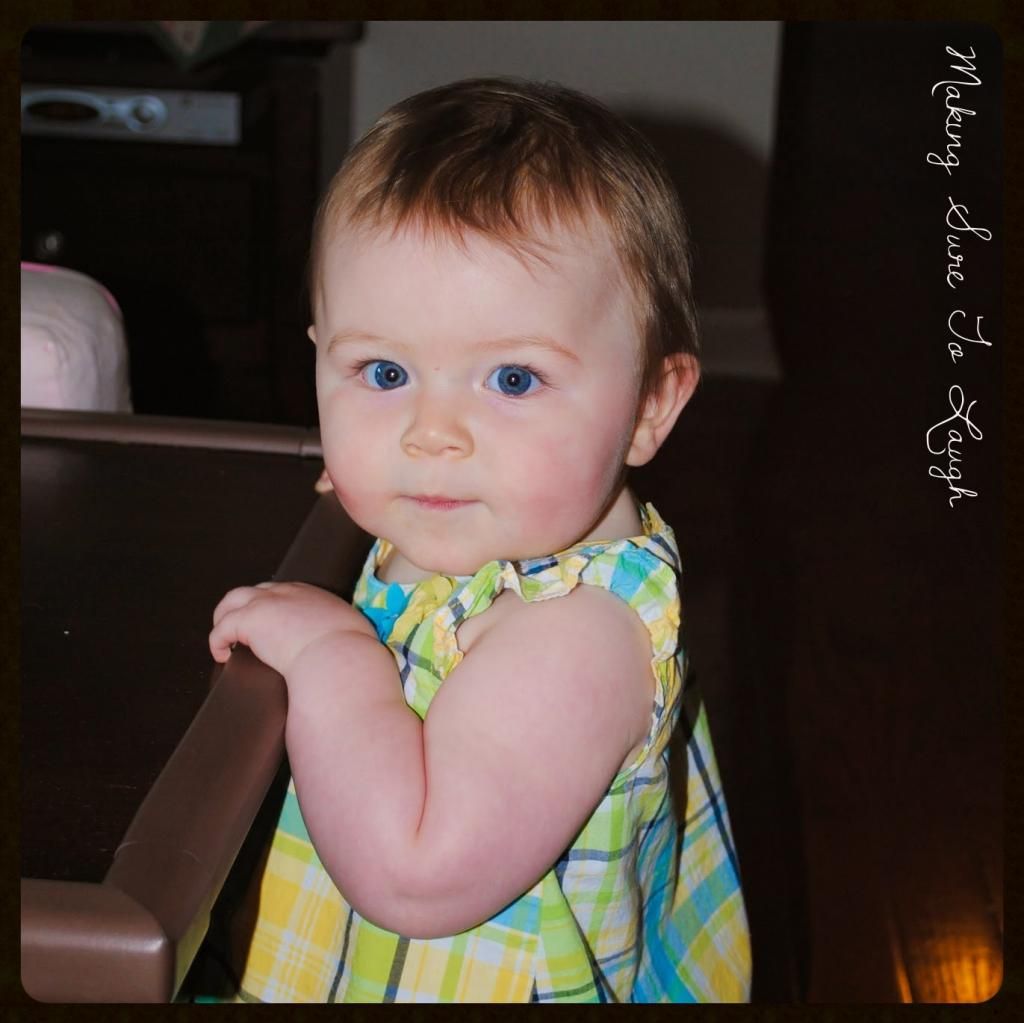 Her eyes are SO blue!
So I texted my sister and asked her to put Caroline in her dress; and when I got back to the house, half of the guests were already there.
While I was still trying to get everything together, someone took Caroline outside (I don't even remember who had her.. my sister-in-law? who knows) and let her play in the ball pit. Apparently she liked it.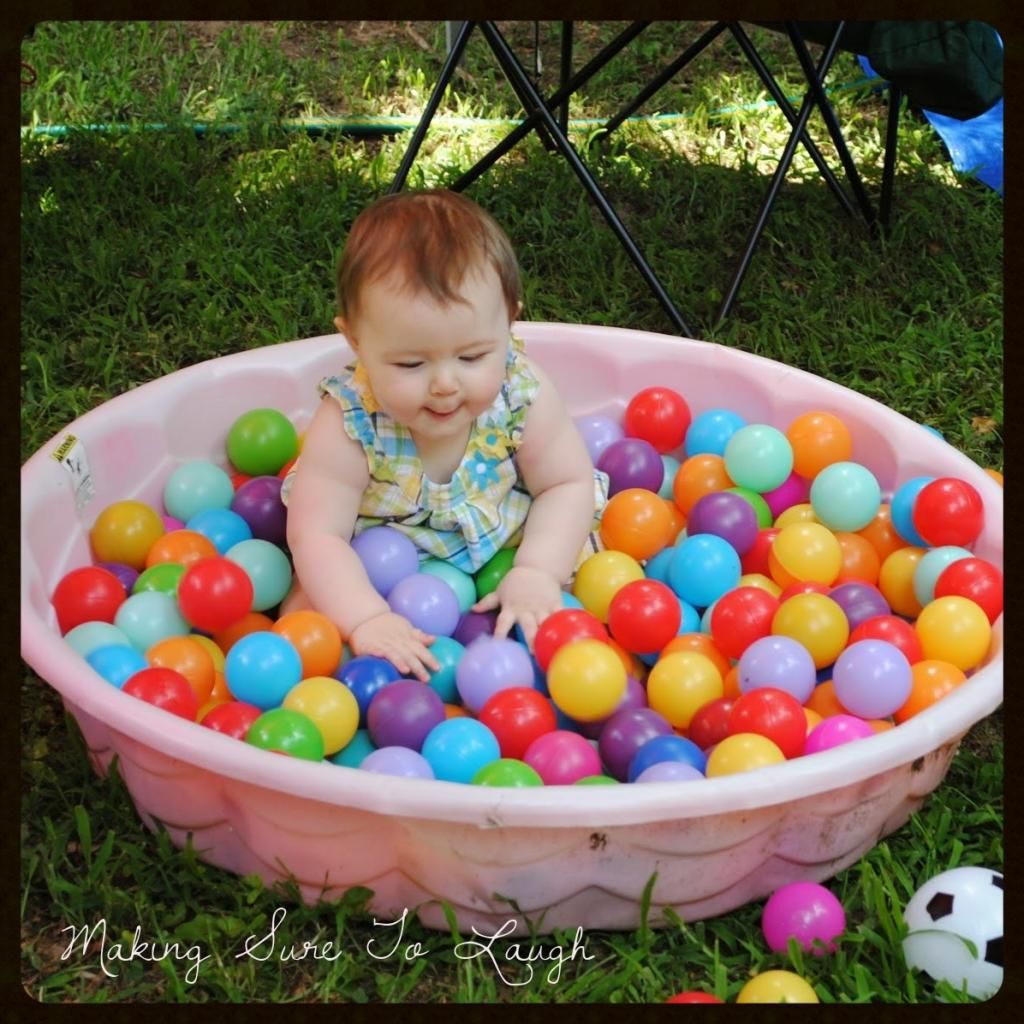 Everyone raved over these cupcakes (I'm assuming they meant it) but they were just box mix Devil's Food & Classic Yellow with Vanilla frosting -- Duncan Hines really knows what he's doing, I guess.
I chose (just like for Emily's 1st birthday cupcakes) to put the frosting in a piping bag and just use a large star tip to put a blob on top. Went a lot faster than trying to ice them with a spatula or butter knife. I found
these
little pinwheels at Party City and paid way too much (4.99) for a pack of 50.
Then came the fun stuff. I love this picture of Caroline looking up at her big cousin, Lana: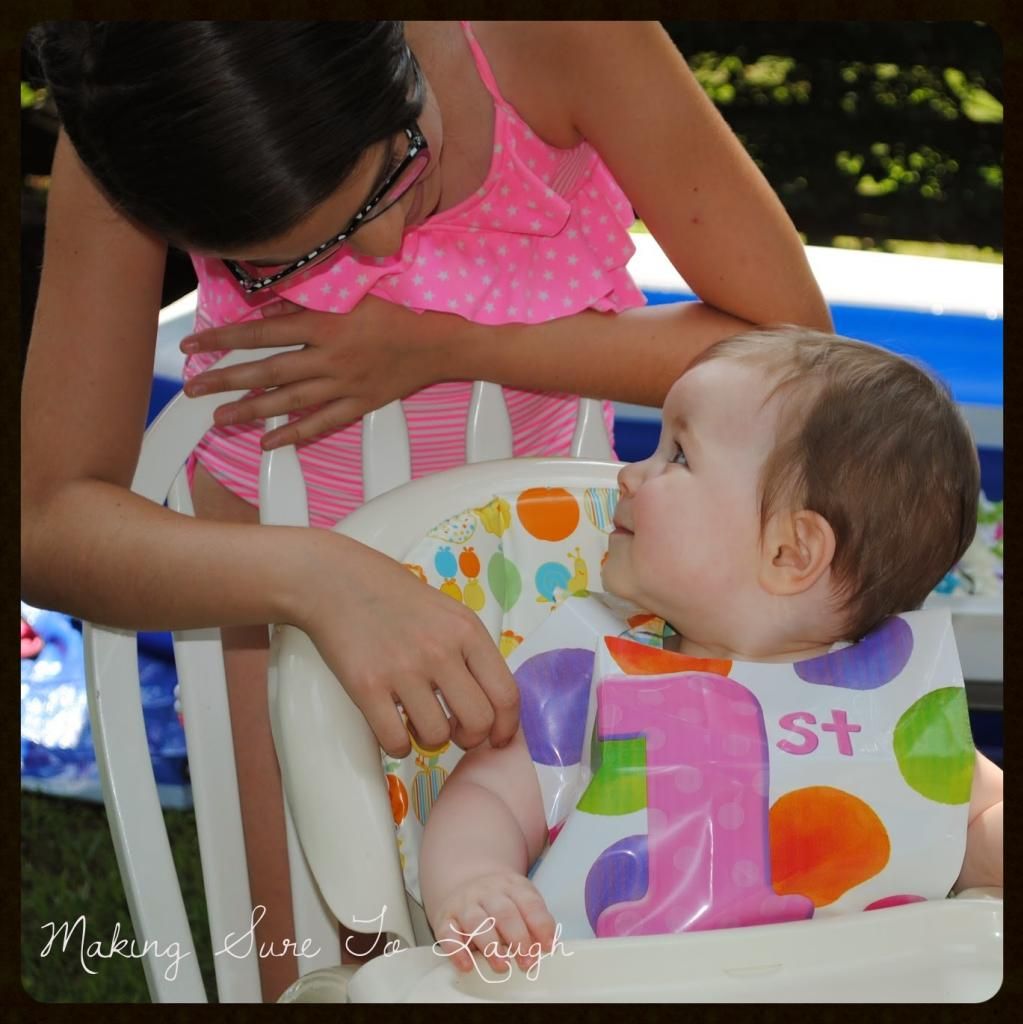 The candle wouldn't stay lit on the cupcake (which was kind of OK because I was pretty sure if it got close enough to her she would reach out for it) and she didn't really know what to make of us all singing to her while I was holding a cupcake just out of her reach... Then when I gave it to her she looked at it like "what am I supposed to do with this?" But she quickly figured it out.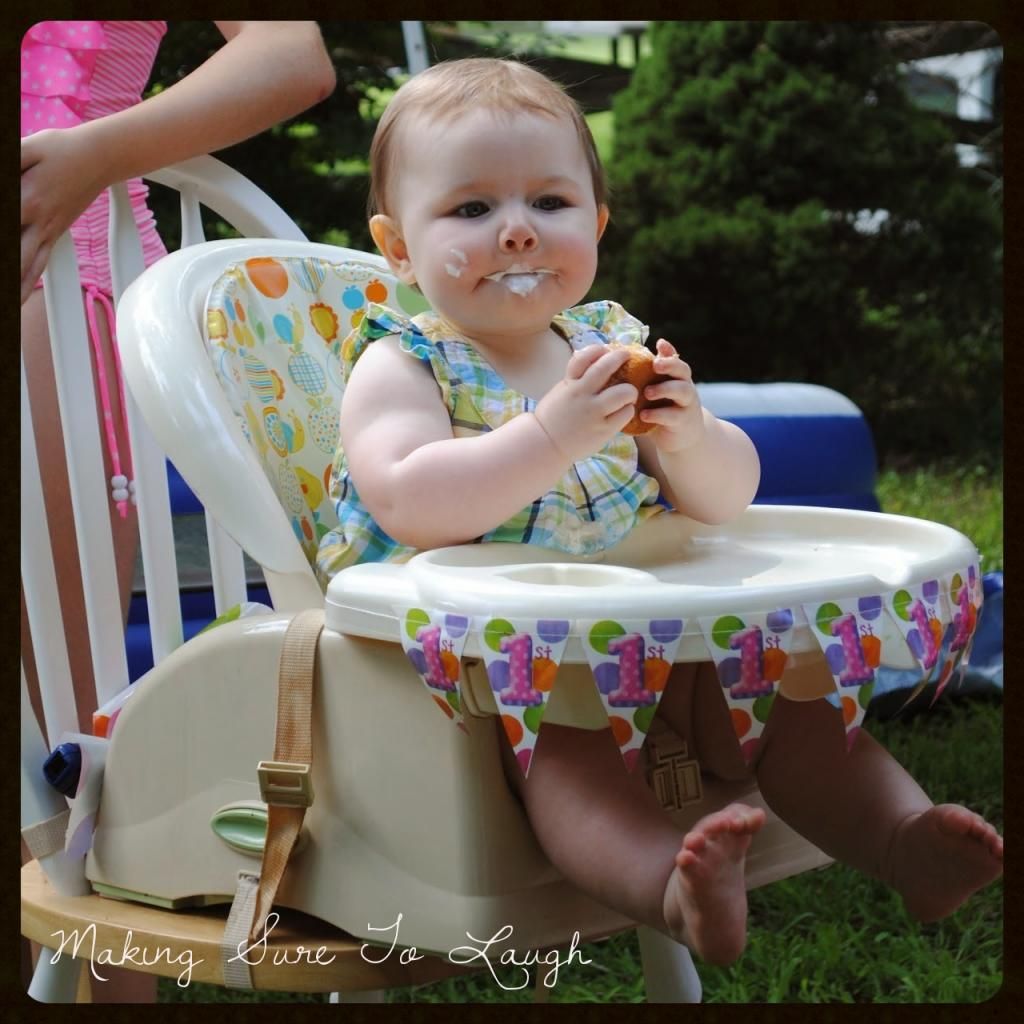 For some reason, when it came time for presents, all Emily wanted to do was play by herself in her room. Weird kid. But really, I think she gets overwhelmed when there are tons of people in the house and a lot is going on. She did the exact same thing last year at her 3rd birthday party. But I managed to coax her back outside even though at first she wasn't too thrilled:
"Emily is not impressed"
Then all hell broke loose and wrapping paper and bows were flying and I still have no idea who gave which girl what.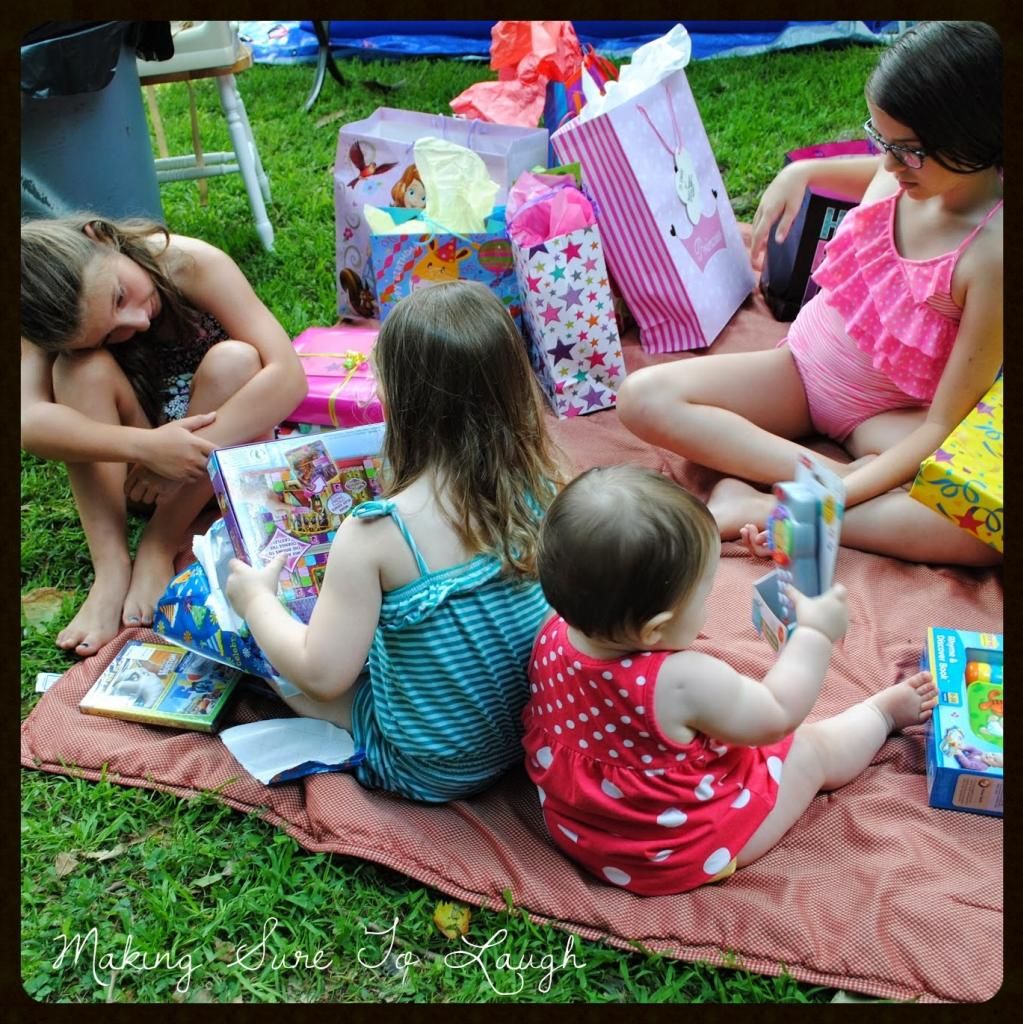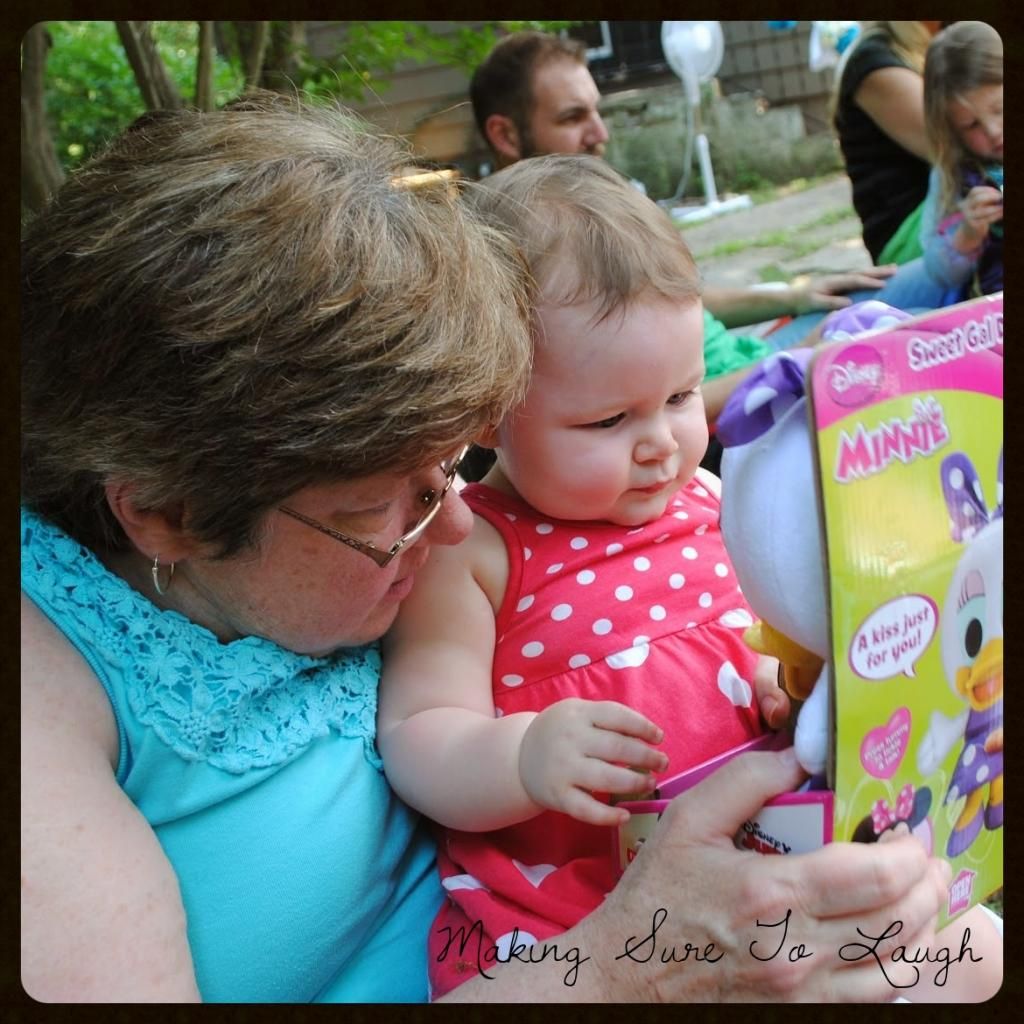 Grammie and the girl. Caroline loves this little stuffed Daisy; she talks when you squeeze her belly and she loves to give her hugs and open-mouth kisses.
I hope this sweet girl knows how much she's loved and how very precious she is to all of us. Now, to find room for all the new stuff they got! :)