In case you don't have a calendar, don't listen to the news, or don't read any other blogs, tomorrow is the FIRST DAY OF SUMMER. And there's just so much to look forward to. Here's my five for today:
ONE
Yog-ahhhhh
Yesterday I purchased a 1-month trial membership to a local yoga studio and I already signed up for five classes. The first one is tonight and I'm so excited! I took yoga as my "gym" my senior year in college (yes, the university I went to required you to take at least one gym class so I put it off until senior year so my best friend and I could get into yoga instead of running laps around campus). And I took a few classes at the gym I belonged to after Emily as born, but I stopped going to that gym and I really miss yoga.
TWO
Germ Pit & Fixing My Ring
Tomorrow, while Jerry is home waiting for the bed delivery people (YAY!), the girls and I will be meeting my cousin and her little boy at the mall for some walking around, maybe a little shopping, playing in the play area (germ pit) and hopefully getting my wedding ring fixed. I haven't worn my ring on a daily basis since I was seven months pregnant with Emily. That's a little over four years, friends, and that's ridiculous. At first, it didn't fit because I was gaining weight and getting hella swollen, then it didn't fit because I didn't lose enough of the baby weight to get rid of my sausage fingers. Then I got pregnant with Caroline and got even bigger, ugh -- I had been wearing the ring on a chain around my neck (so classy) but then I noticed one day that the diamond in the engagement ring (my engagement ring is sandwiched in between two bands and it's all soldered together) was loose so I stopped wearing it on the necklace and put it in an envelope in my nightstand. WELL... now it fits and I want to WEAR it. So long story short, tomorrow I'm taking it to Kay Jewelers and we're going to see about getting that bad boy fixed up.
So pretty :)
THREE
Family/Friends Picnic at the Beach!
Next Saturday, we are all going to a nearby state park/beach for a huge
Chive meetup/BBQ/sports day
. We are going to splash in the water, eat a lot and play some softball or something, and hopefully the girls will be so tired when we get home we'll all go to bed before 8pm.
FOUR
Birthday Parties!!!
My girls' birthdays are twelve days apart (Caroline's is July 1 and Emily's is July 13). For this year only, it being her FIRST birthday, I wanted Caroline to have her own celebration. Next year and every year after, there will be joint parties and hopefully it won't put them in therapy. Anyway, for Emily's birthday, I thought it would be fun to try doing it at a bounce house type place, so that's what we are doing. A few friends, cousins & all her daycare buddies will be jumping, crawling, climbing, sliding and bouncing, and then we will eat pizza and cake. And I don't have to cook or clean any of it. WOO HOO.
But wait. The day after Emily's party, we are going to have a bunch of family and close friends over for Caroline's FIRST BIRTHDAY party/cookout! I cannot even believe that she's going to be one, but I am looking forward to spending time with family and seeing my little peanut blow out her candle.
Also, our nephew turns 2 in August, our niece turns 4 in August, my best friend's little boy turns ONE in September; and Jerry's birthday and my birthday are at the end of the summer. PHEW. A lot of celebrating over here. And I look forward to all of it!!
FIVE
A Much Needed Getaway
Probably the thing I'm looking forward to most this summer is taking a little long weekend trip to Williamsburg, just me and Jerry. The kids aren't really old enough to enjoy/remember/appreciate it, and it's kind of "our" place. We have been there together three times so far: our honeymoon, our first anniversary, and our "babymoon" when I was pregnant with Caroline last March. It is a special place for us and we are so excited to go back and act like kids for a few days. We're going to slowly walk the streets of Colonial Williamsburg (and definitely eat at Retro's at least once), ride rollercoasters, see the clydesdales and get a caricature at Busch Gardens, and do waterslides, wave pools and (not so) lazy river floating at Water Country USA. SO EXCITED.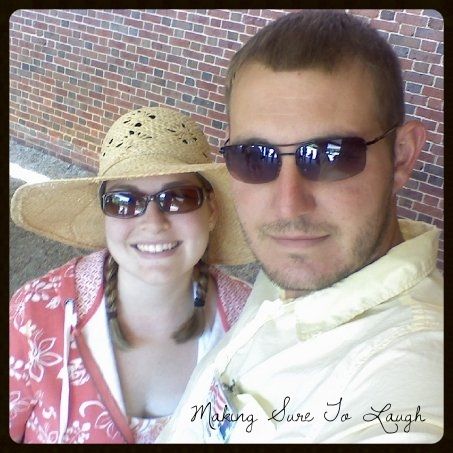 Selfie from our honeymoon trip - here we are waiting for the bus to Colonial Williamsburg.
Man, I miss that hat.
So, what are YOU looking forward to this summer?