This weekend was pretty normal. Not a lot happened, but that's ok. Great, even.
Saturday morning Emily and I met my cousin Hope at the mall and proceeded to sweat our asses off. Apparently the mall was relying on the individual stores' air conditioning and it wasn't really working. After leaving the first store I was already dripping. But I considered it my workout for the day... totally legit.
Anyway, we were having our new bed delivered that afternoon, so I was looking for some new sheets & a quilt or comforter. I found a cute set at TJ Maxx, and hoped it wasn't too girly for Jerry (of couse I didn't take a picture of it -- #badblogger).
We went to the jewelry store to get my ring fixed. I told the guy the stone was loose and he asked me "what makes you think it's loose?". At first I was confused about what he was asking me because I figured it was obvious. I told him I could spin the stone around and he's like "oh.. yeah, then it's definitely loose."
Uhh, thank you for your expert opinion.
We made a pit stop in Children's Place to look for flip flops for Emily. She was more interested in hats & sunglasses. I had my back turned and she said "mommy look I found a hat!"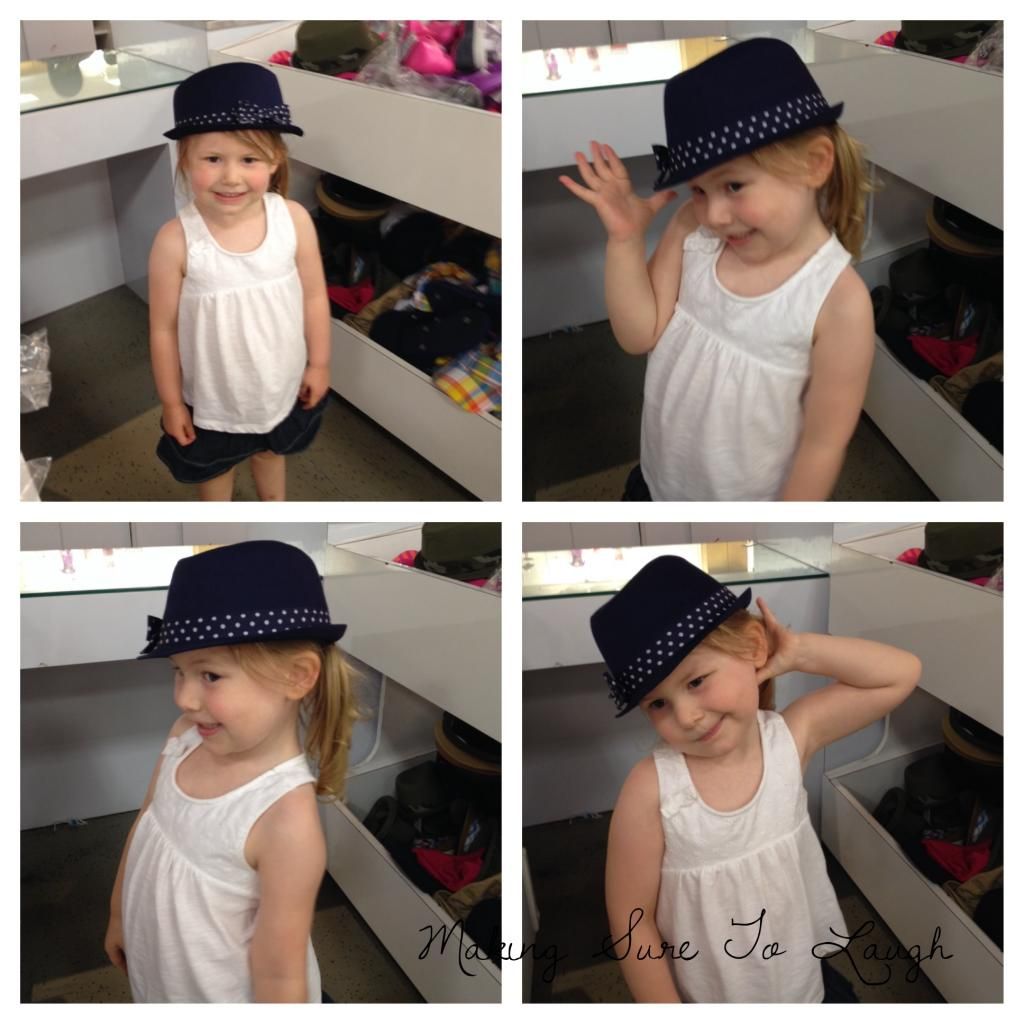 I absolutely hate fedoras (unless I'm watching Mad Men); and I think they are a silly trend. But omigosh how freaking adorable?! (And I love how she put it on sideways at first)
We found some flip flops for .99 but the checkout line was out the door... we pulled a Sweet Brown and set them down on the nearest table and left. I may go back during the week when it's not so crazy.. because I'm not paying $8 for flip flops at Old Navy or anywhere else.
After some more shopping, a horribly unhealthy lunch, and some germ pit playing (during which Emily had to come tell me everytime someone got in front of her on the slide or accidentally touched her or *gasp* looked at her)... we headed for home... and then we couldn't get Emily off our new bed (yeah, no picture).
This little booger got up from her nap and proceeded to empty her toy drawer: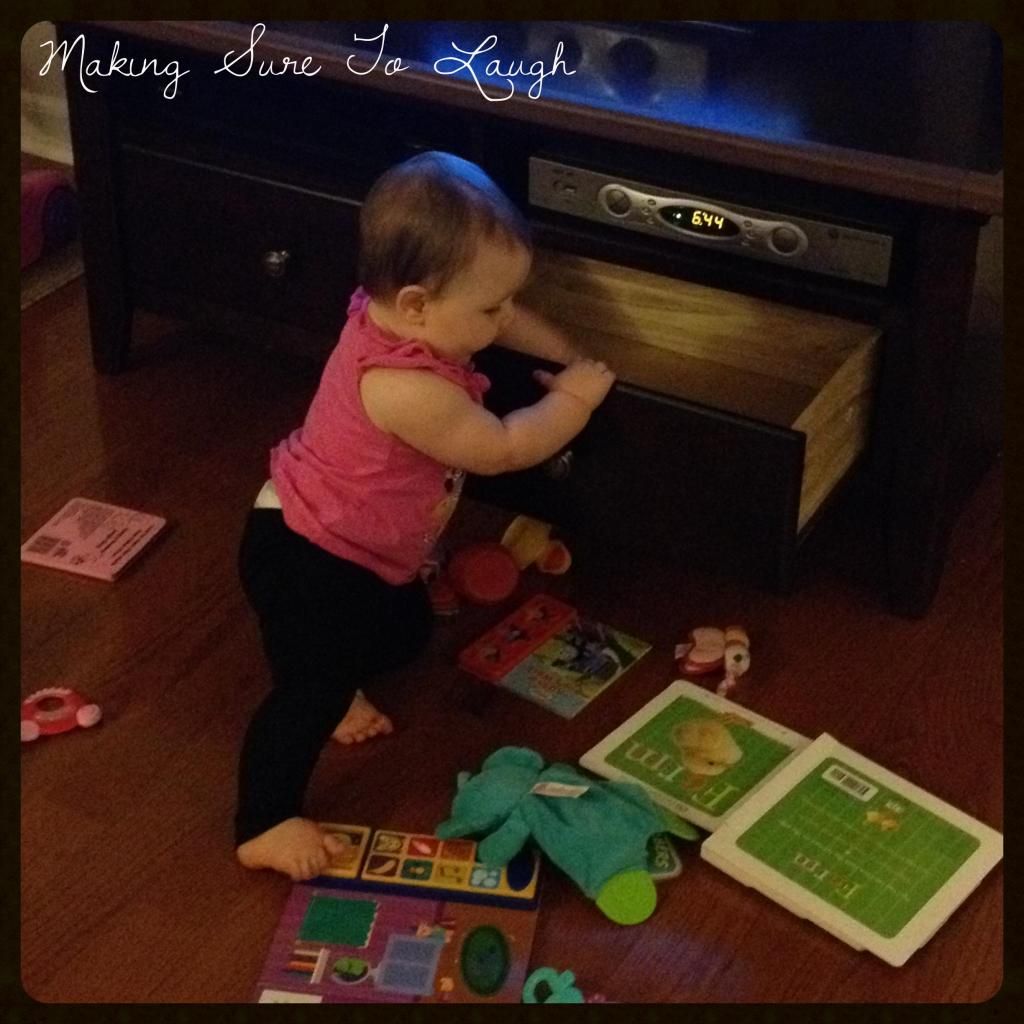 Looking a little guilty, but not sorry ;)
For being a good girl at the mall, I had gotten Emily this little $1 Frozen dry erase board at Wal-mart. She loves to draw and write, and she did this all by herself: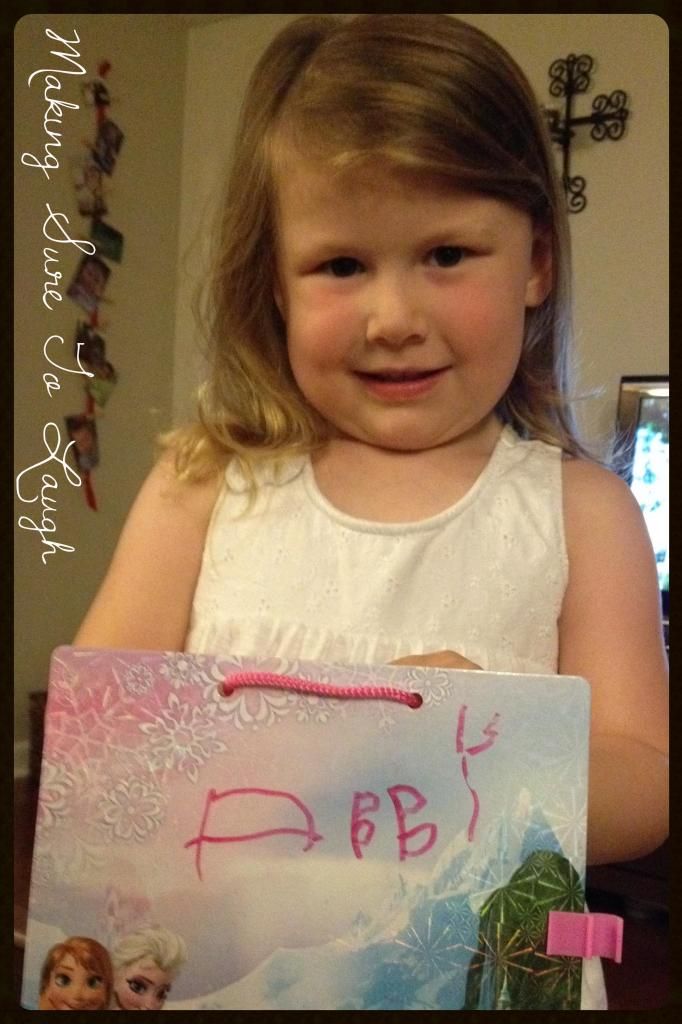 She wrote cousin Abby's name!! SO big.
I found Emily's old fridge magnet toy when I was putting away some rarely-used Pyrex... and Caroline is a fan.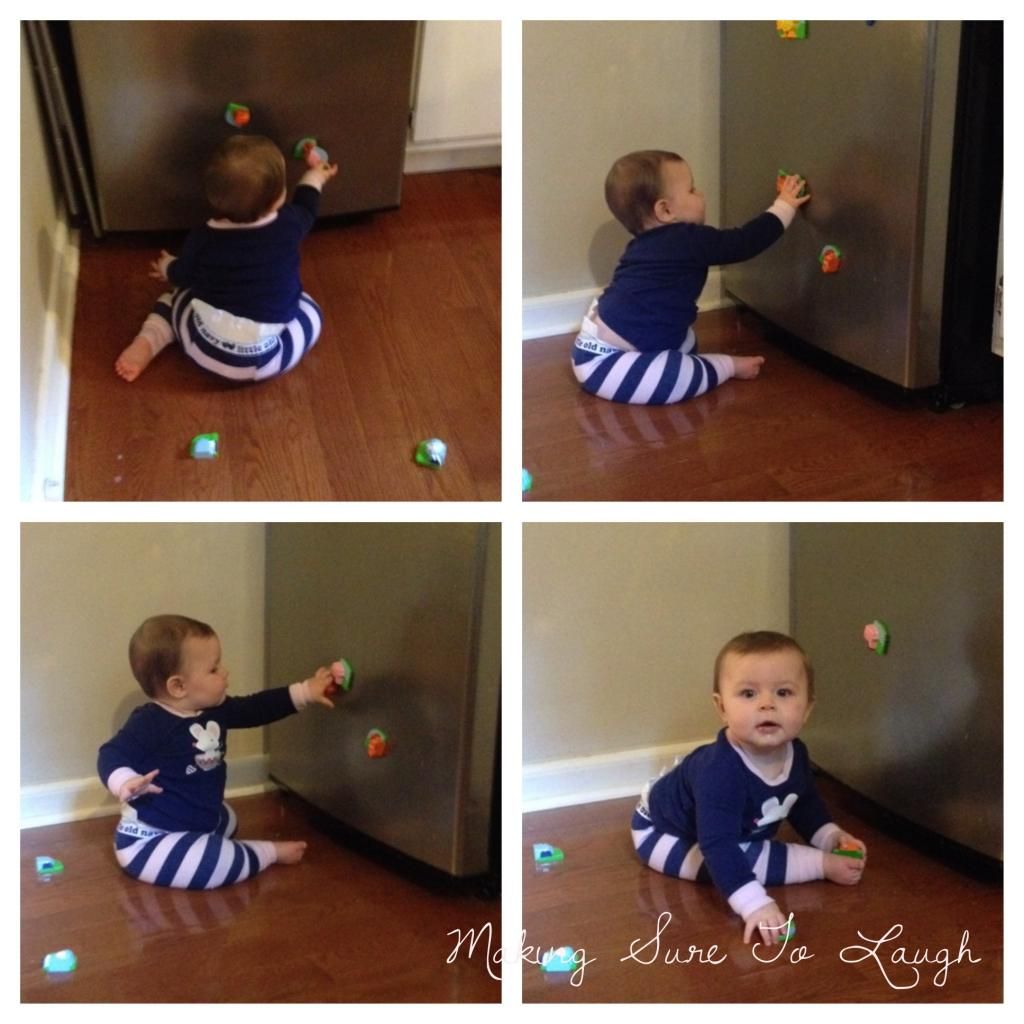 She wasted no time learning how to take the magnets off and put them back on; although her favorite is taking them off and flinging them across the floor.
We didn't cook once this weekend and spent way too much money. Hopefully we can get back on the wagon this week...
So what did you do this weekend??