It's been a few weeks since I linked with the lovely
Five On Friday
ladies.
So here we go...



-One-
As of yesterday, it is officially Spring. Now if only the weather would get its shit together (that rhymes!) I would be a happy camper. In fact, I would love to go camping if it got a little warmer and stayed dry for a couple days.
-Two-
Um. So I posted a picture of the girls in the "big" bath together -- Caroline's first time taking a bath in the actual tub instead of the baby tub. Well, now I'm posting pictures of Emily taking a bath in the baby tub.
In textbook older sibling jealousy/regression, lately she is acting like a baby, wanting to be picked up and held, and just generally acting out to get attention. So after Caroline had her bath (I decided to go back to separate baths until Jerry is working days again -- too much stress to do it by myself right now), the baby tub was propped against the side of the shower to dry, and Emily decided she needed a baby bath, too. Honestly I'm so sick of saying no to her all the time, so she took her bath in the baby tub. Whatever.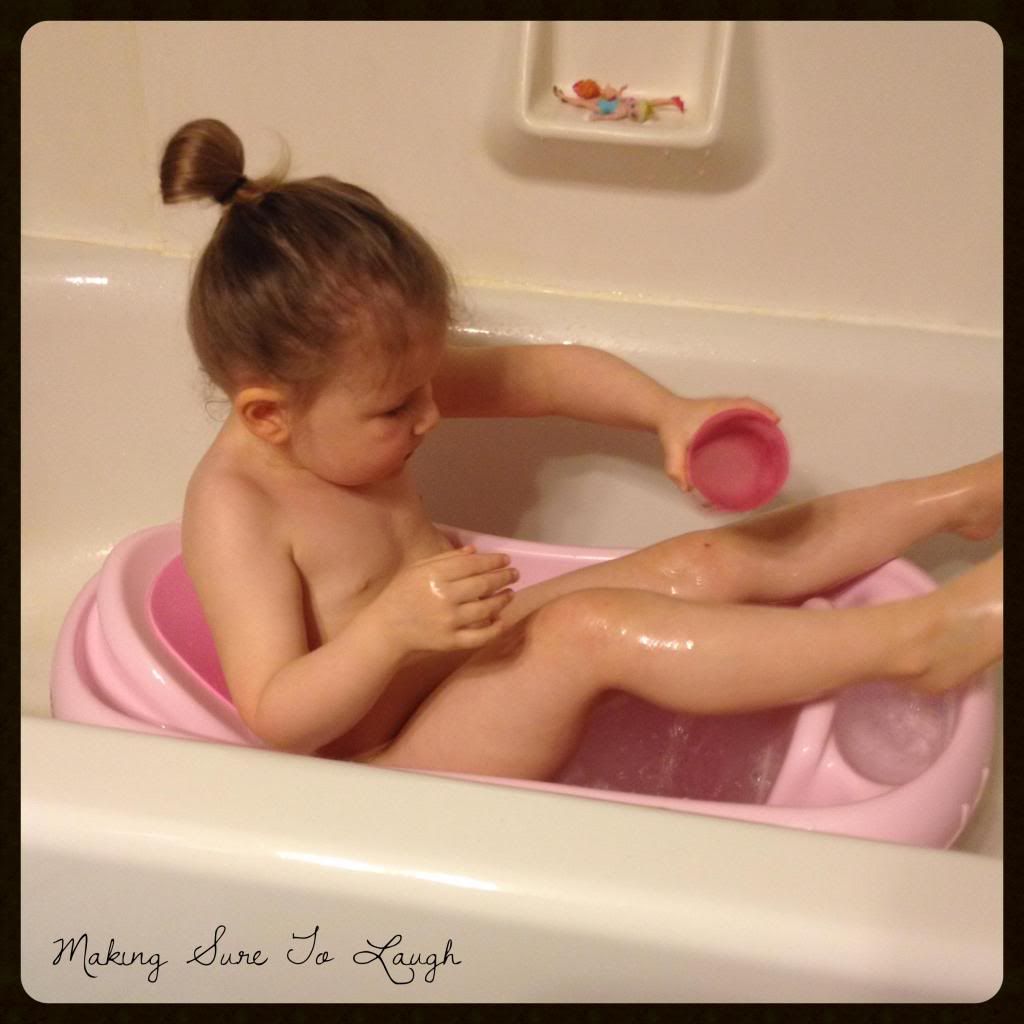 -Three-
My three year old likes to FaceTime. Jerry left on Tuesday for Iowa to visit his grandparents and we have been FaceTiming each night before Emily goes to bed. The first night, after we hung up with Jerry, she goes "Can we Face grampa?" So we tried to call my dad. He didn't answer so we called my mom (who doesn't have an iPhone) and Emily couldn't figure out why we couldn't see her face. Now she's obsessed. She wants to FaceTime everyone. She stares at herself in the screen and moves her face way too close -- and doesn't really even have a conversation. I think if I just got her a handheld mirror she would be entertained for hours.
-Four-
We have breakfast for dinner a LOT. Why? Because it's delicious, mostly nutritious and, above all, E-A-S-Y. Scramble some eggs, pop some frozen (sometimes pre-made & frozen; sometimes from the box) waffles/pancakes/french toast in the toaster, throw in some fruit or yogurt, and bam! Dinner. Done.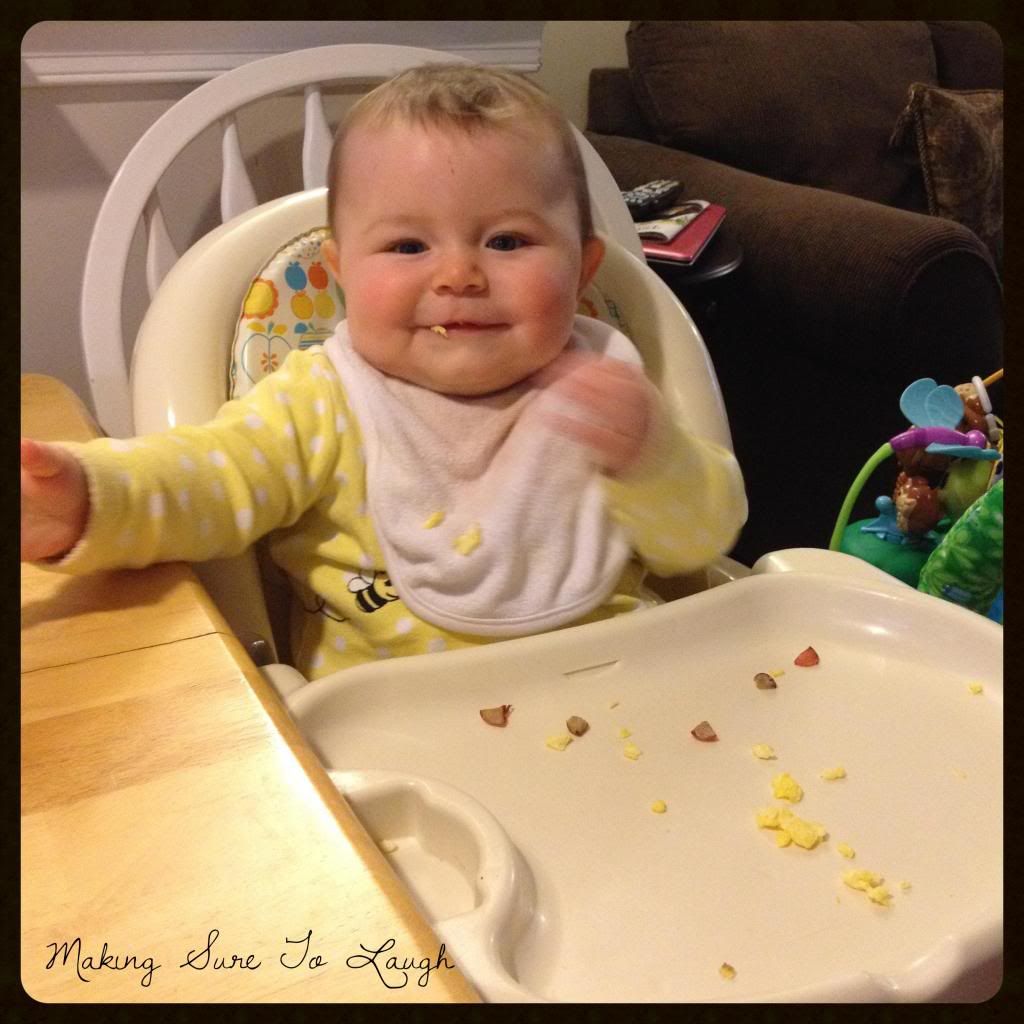 She was shoveling eggs and french toast so fast I couldn't get a still shot. She wasn't crazy about the grapes though... maybe the texture?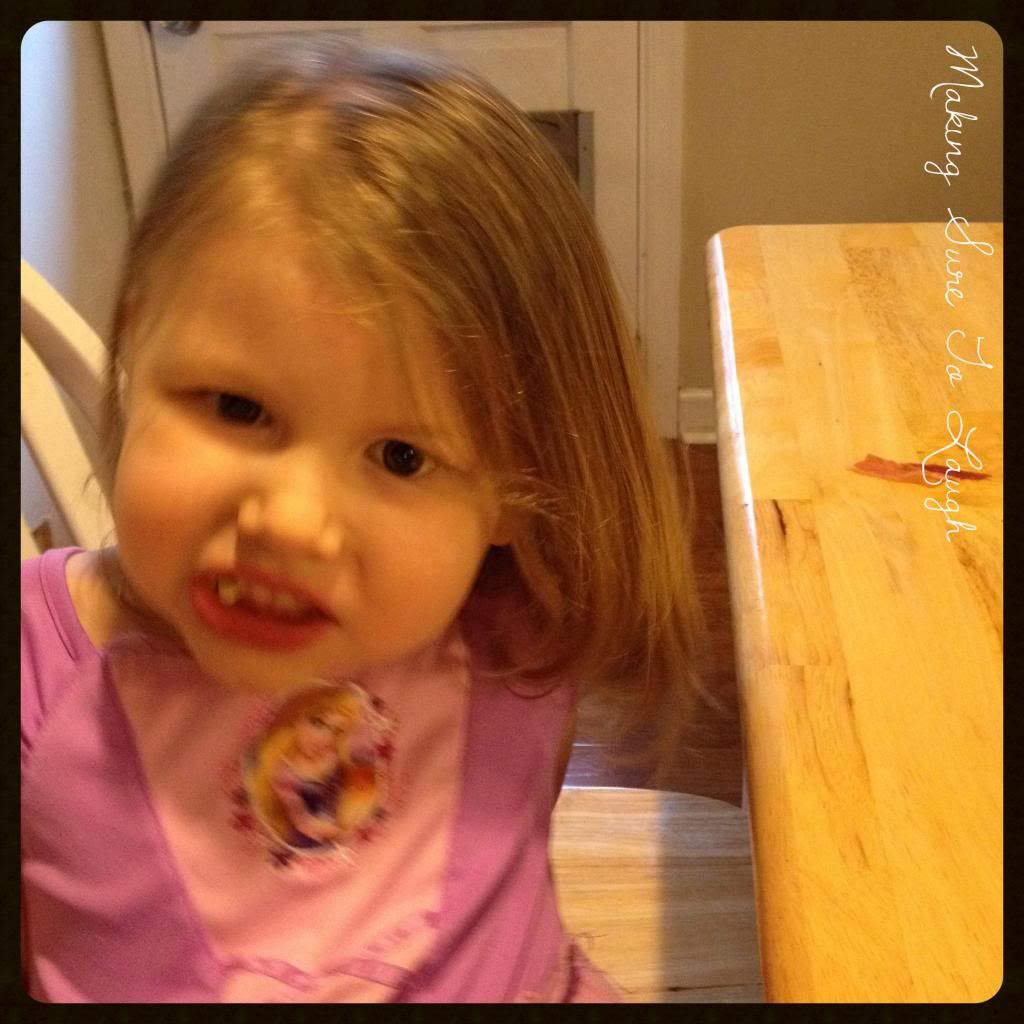 This is literally the best picture I could get of Emily eating her eggs. She would not sit still and she would not smile. She's three and damn good at it.
-Five-
Speaking of feeding a picky toddler and an already independent almost 9 month old... I am having trouble with dinner meal ideas. I can come up with something that Jerry and I will eat, and that Caroline would possibly be able to feed herself (she's already over being fed with a spoon); but then I know it's something Emily will refuse to eat. Like throw herself in the floor as soon as she sees broccoli on her plate refuse.
Usually I end up making something for me and Jerry, making something for Emily, and then throwing together a random assortment of mostly healthy foods for Caroline (Cheerios & green beans, anyone?).
And yes, I could MAKE Emily eat what we're eating, and say it's this or nothing, but at her age, I really don't think she gets that yet. I know I've started bad habits by letting her choose what she wants. And I want to change that. So if you have any family-friendly (toddler & baby friendly) recipes that don't take an hour to make, I would LOVE LOVE LOVE to hear them.


I'm excited for this weekend. Because it's the weekend.