I don't know why, but for some reason I keep wanting to call this linkup series "
Weekend Update
".
Today I'm linking up with Jasam at
The Opulent Owl
for Weekend Highlights.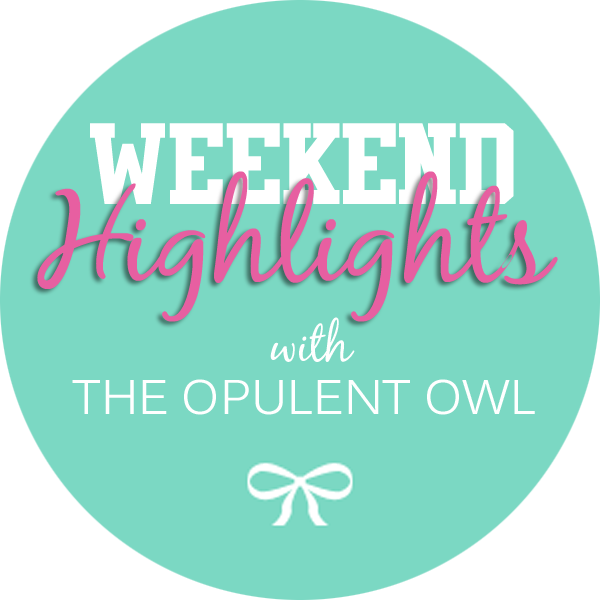 So, the highlights from my weekend? Well, the biggest one is definitely that Jerry is able to walk again. I mean, it's pretty great. Considering a week ago today he couldn't even breathe without being in agony. I'll spare you the boring day-by-day details of this lovely little adventure, but Friday he ended up having surgery. The procedure is called a microdiscectomy and basically the doctor made a small incision in his lower back and under a microscope, removed a piece of disc about the size of a AA battery from where it was pressing against his sciatic nerve. Yeah. Ouch. So, the pain relief was immediate, but he did have surgery, and the doctor did have to move the nerve (and in doing so irritate it), so he's still in some pain from the procedure itself -- but no where near what he was going through when the cartilage from the inside of his ruptured disc was pinching the crap out of the nerve. He's on some pretty strong meds, which makes him awfully entertaining at times. I told him to stay off Facebook, lest he post something he regrets, but --of course-- he didn't take my advice and has been commenting and statusing like it's his flipping job. It's cute though, and I'm glad he's so excited to have a "fresh start" -- hopefully one without any back pain. This surgery didn't "fix" him, as he still has ruptured and herniated discs, and he still has degenerative disc disease; something that will not get better... In his future may be a spinal fusion (with rods & pins), but we are taking it as it comes and just being ever so grateful for the relief he has felt so far.
My mom came to help out because when Jerry told me he was going to have surgery Friday (in between passing out from the pain) I freaked out and immediately called her. She was able to take Thursday and Friday off which I am so incredibly thankful for. She took the girls to daycare on Friday so that I could be with Jerry and take him to the hospital. It was a wonderful impromptu visit and I'm so glad she was here. She's a nurse (with about 40 years experience and impeccable bed-side manner) so she was able to help me get Jerry into bed when he wanted to sit up on the couch and shop on Amazon. She showed me how to change the dressing on his incision and helped me figure out a game plan for his post-surgical care. She fed, changed and played with Caroline; she wrangled and humored Emily. Basically, she's the shit and I wouldn't have been able to get through this without her.
Another highlight -- our niece, Lana, arrived Saturday morning for a week-long visit. She is staying with us while her parents are away for work. These plans were made a while back (before Jerry's back pain got ferocious) and I kept forgetting until, well Saturday morning. But it's definitely great that she's here because she is so helpful -- keeping a quick eye on Caroline so I can do a load of laundry, keeping Emily occupied and happy, organizing things left and right (she's definitely related to me).
So all in all, after a week of pure hell for us (mostly Jerry, because... AA battery!! oww), we ended up having an awesome weekend. Jerry is very emotional/forgetful/hilarious on Percocet and so at least he's been entertaining. And.. AND! Caroline is getting her first teeth -- not just tooth, BOTH of her bottom front teeth are coming in at the same time. Of course there's no picture because have you ever tried to get a 7 month old to sit still? Yeah.
So hopefully things will start to settle down here since the girls and I are finally over our cold/flu/bronchitis/ear infection crap and now that Jerry is no longer completely preoccupied with pain (now he's just preoccupied with posting long, loopy, partially coherent statuses on Facebook). I plan to do a Monthly Snapshot for January-- holy crap, it's February!-- sometime this week (hopefully WITH pictures) and also should be having an exciting giveaway coming up in the next few weeks!
For any of you who are still reading, THANKS! and