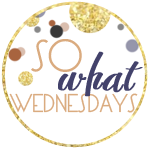 It's been a while blogland. Is anyone still reading?
*crickets*
So what if I...
...have a bunch of pictures on my phone of "before and afters" from last weekend's cabinet reorganization, but I'm too lazy to connect my phone and edit the pictures.
...got a Frosty with my lunch, even though it's 7 degrees outside. The Frosty was free... so I had to get it.
...feel like a complete failure as a mother because Emily seems totally out of control lately. I would kill for the "terrible twos". They have nothing on the "horrendous almost four going on 13s".
Happy Hump day all.