Starting Christmas Eve and ending yesterday afternoon, we have been busy. Busy visiting, entertaining, shopping, eating, opening presents, wading through wrapping paper, eating more, watching movies, playing games, laying on the couch, and oh yes -- eating ...
We had such a great Christmas -- the girls got so much stuff I don't know where I'm going to put it all and that has me a little twitchy, but overall we enjoyed ourselves immensely.
Christmas Eve we started our jammies & a movie tradition. We made hot chocolate & popcorn and had M&Ms and sat down to watch Arthur Christmas.
It was good and I really enjoyed just relaxing with Emily (Caroline went to bed shortly after the movie started).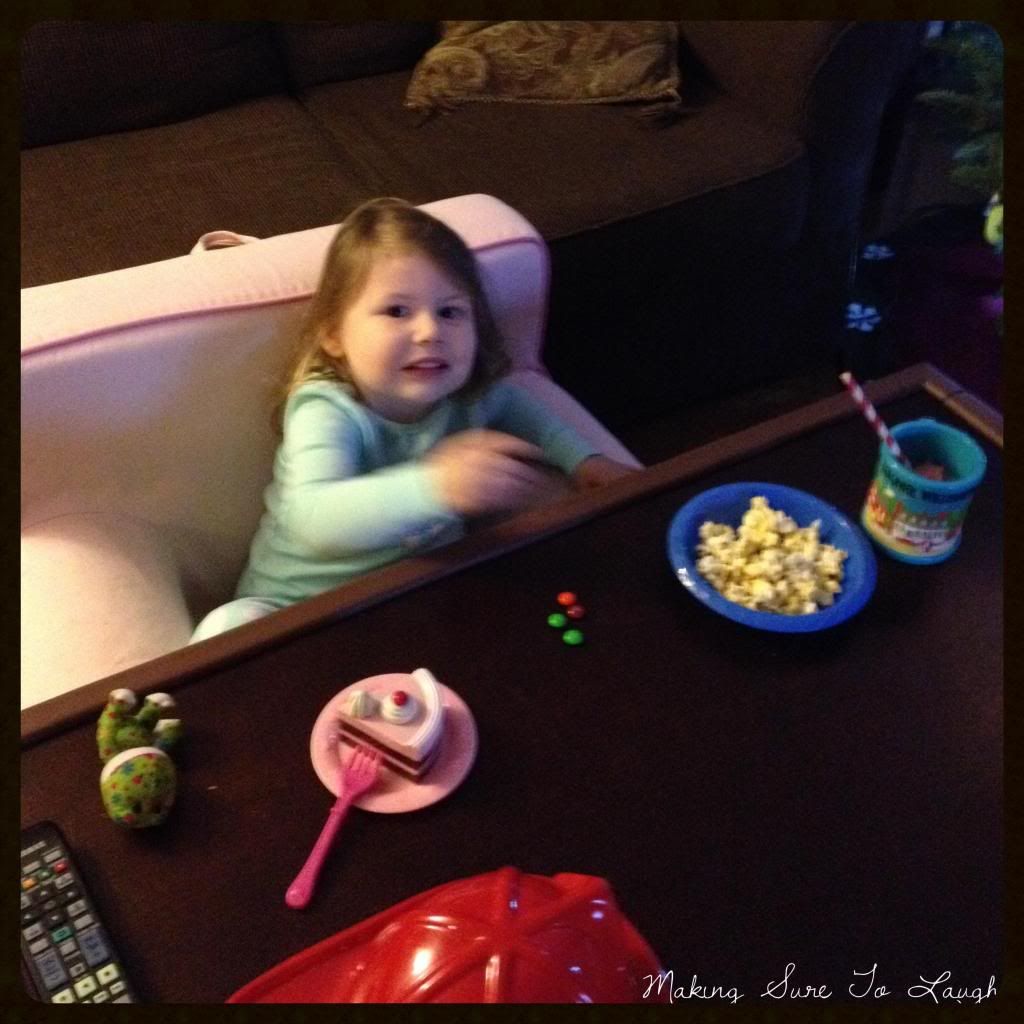 (excuse the blurry photo, she was too excited to sit still)
We put out cookies for Santa. She said we should have mint chocolate chip cookies for Santa and a sugar cookie for Rudolph.
Sure, why not? They're all going to end up in my belly ;)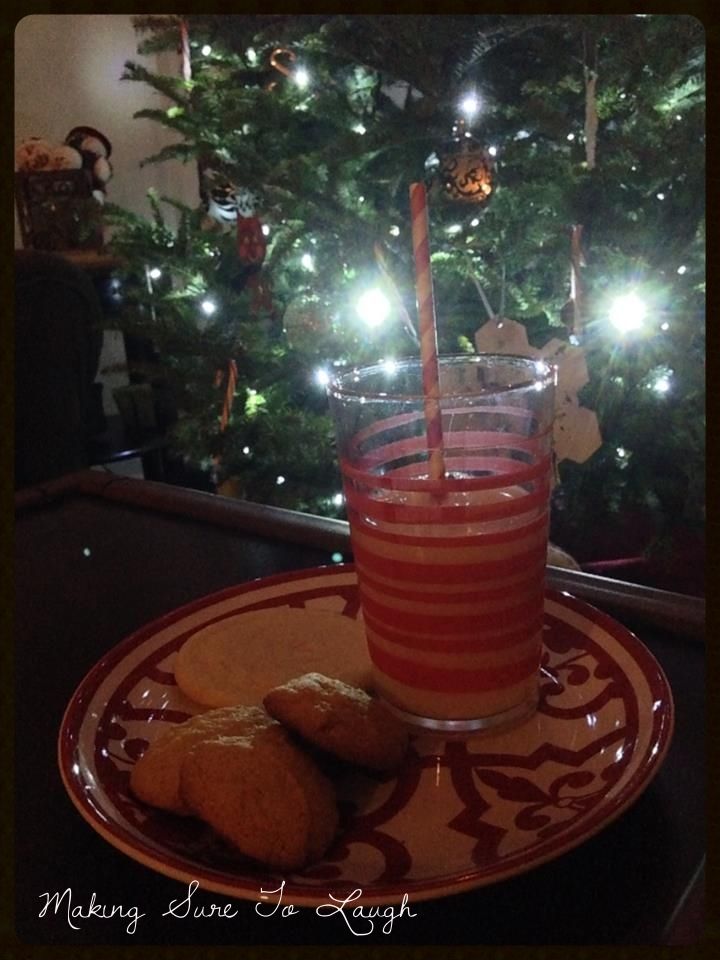 Then Christmas morning Caroline let us sleep in a little and Emily slept in a lot -- long enough that I had time to give Caroline her bottle and even then had to wake Emily up.
Me: "Uh, don't you wanna see what Santa brought you?"
Emily: "Oh. Ok."
TALK about excitement...
For some reason she's just not really all that into opening presents. I'm sure this will change in the years to come, but everywhere we went, or anytime someone brought her presents to open, we all but had to force her to open them. She just wanted to play with toys she already had or run up and down the hallway as fast as she could or play hide and seek. Basically, everyone could have saved a lot of money this year and just gotten her candy bars or... nothing.
Here are my two sweeties on Christmas morning:
Caroline got seven new "pappers" (aka pacifiers) and I had to throw away her baby ones. Tear. (I also ended up having to trash about 3oz of frozen breastmilk that I found in the freezer because she's been on formula since about six weeks and I forgot about it. It was really hard to throw away. Anyone who's worked hard to pump 3oz -- or 1oz! -- of boob juice knows just how tough that was.)
Moving on...
We went to the grocery store on Saturday and she insisted on wearing her new Barbie cheerleader outift (you might be able to see the pink skirt under her coat), her new rain boots and her new Sofia the First knapsack.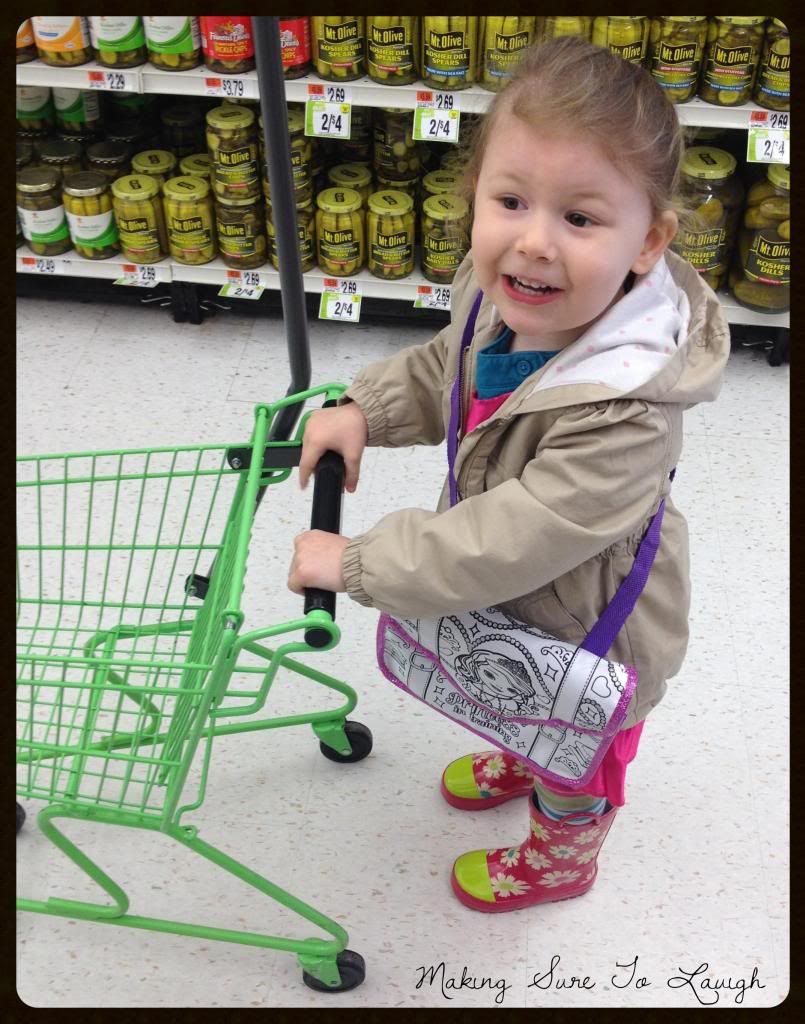 She was SO excited that I let her push that little cart through the store. She kept stopping to talk to people and telling them she had a cart that was "Emily-sized". She was REALLY upset when she had to put the cart back after we checked out.
And Jerry insisted I take a picture of my "creative" Christmas card display: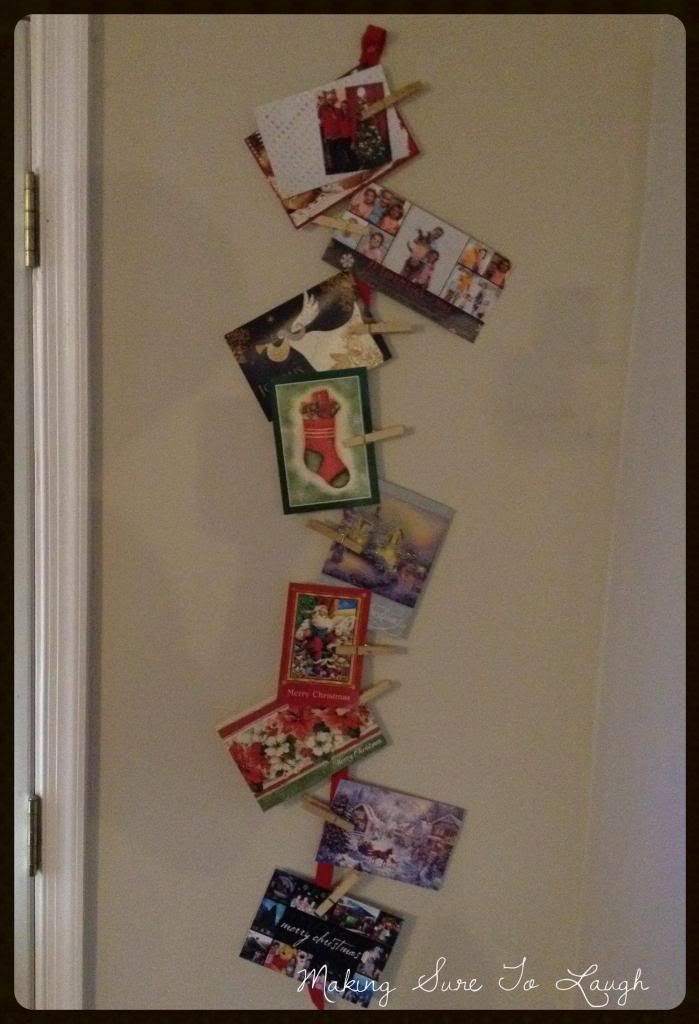 It's a piece of leftover ribbon (I think it was tied around a set of kitchen towels) stuck into the wall with a pushpin and the cards are held on it with clothes pins.
Tres chic, n'est-ce pas?
I cannot wait until everything is put back to normal in our house. When the tree and decorations come down and go back into the attic; and when I find SOMEWHERE to put all of the wonderful junk my kids got, I might be able to breathe again. I have a feeling that more bins and baskets are in my future and I am OK with that. I just happen to have a couple Target gift cards burning a hole in my wallet right now...
I hope you all had a great Christmas and wish you all a Happy New Year. My only resolution is that I'm going to be Christmas shopping all year so that it doesn't come as such a shock to my bank account next December.
Happy Monday, one and all!