Today's prompt is: something about your significant other.
Well, I've already talked about how much Jerry annoys me, so...
I think the thing about Jerry that I'm most thankful for is how wonderful a father he is. He loves our girls so much and they just adore him. Emily is his mini-me and tries to impress him and make him laugh. Sometimes when he's reading her bedtime stories, I hear them cracking up over something (usually the book characters "pooping in their diapers").
There are moments when he's impatient and frustrated with each of them -- Emily's not listening, being a little shit; or Caroline's fussing because she can't get herself situated to go to sleep -- and he's a little gruff & grumpy, but never mean. He speaks to both of them like they are adults -- more so Emily for obvious reasons. He explains why she should or should not do something and he tries to teach her how to do things properly. She almost never listens, but I know that's mostly because of her age.
I never had a single doubt about his ability to be a great father. Watching him with kids before we ever thought about having our own, I knew he was a natural.
Daddy & Emily:
Daddy & Caroline:
(Laying on daddy)

(There aren't as many pictures of Jerry with Caroline just yet. He's usually wrangling Emily while I'm feeding or doing something else with Caroline.)

I love this one of the three of them. This is what it's all about right here: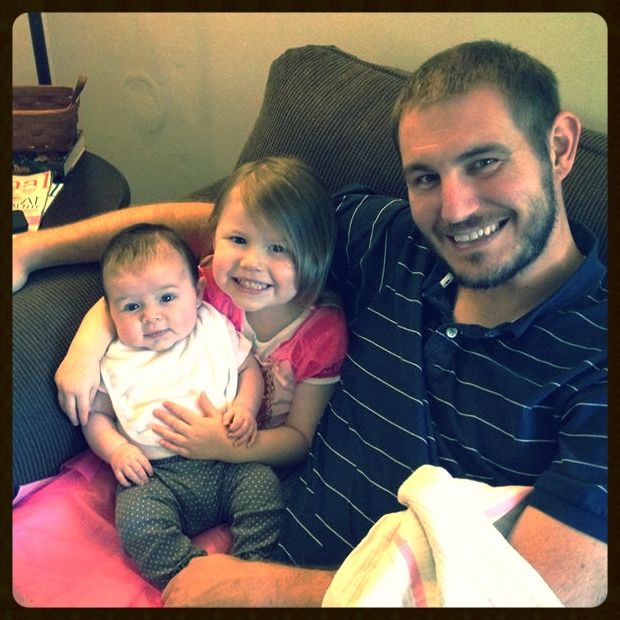 Emily is obsessed with princesses right now (like most 3 year old girls) and so as soon as we get home from daycare she puts on a princess dress and her "glass slippers" and tiara, and comes out and asks "Prince Daddy" to dance with her. He usually obliges -- and if he doesn't it's because his back is killing him (he's got degenerative disc disease along with a few slipped and bulging discs - read: extreme pain almost constantly). And it kills him even more that he can't dance and play with her. I know he just wants to leap off the couch when she asks him to play; to pick her up and twirl her around and play horsey with her. I know he wants to be able to stand up at the changing table and clean Caroline's disgusting green poop diapers, too (What's that babe? Not so much? Oh..)
Even though I right now I'm doing the bulk of the heavy lifting, he picks up the slack with snuggling in bed with Emily to watch Octonauts and feeding Caroline her bottle when I'm giving Emily a bath.
Our girls love their daddy so much. And when he gets home after work and they stop what they're doing to welcome him (Caroline whips her head around and gives the best wide gummy grin when she hears his voice) -- it's so apparent then that he is over the moon for them, too.
He worries about them nonstop and always makes sure they have everything they need and want. He will sneak in Emily's room after I've tucked her in (and gone back in three hundred times and told her just GO TO SLEEP!!!) and lay on the floor with her and tell her stories "from his mouth" and hold her hand until she falls asleep.
He is exactly the kind of father I wanted for my kids -- and for that I'm so thankful.