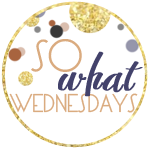 One
So what if I had to take two showers this morning and was an hour late to work because I pulled the gas nozzle out of my car while it was still pumping and got sprayed with gasoline? Genius right here.
Two
So what if I drank two 20oz Diet Cokes today? Caffeine is my BFF.
Three
So what if I already started listening to Bing Crosby's White Christmas and *NSYNC's Home for Christmas in the car??
SO there.