My friend Megan from
Heartbeats and Little Feet
nominated me for a Liebster Award. I'm not really sure what this means, but I do know that it means I get to answer questions about myself, so I'm all for it...
Here are the rules:
1. Thank the blogger that nominated you. THANK YOU MEGAN!!! :)
2. Answer the questions given by the blogger who nominated you.
3. Nominate 5-11 bloggers with fewer than 200 followers and give them questions to answer.
Questions Megan Asked:
1. Gold or silver?
Answer: I used to only wear sterling silver. I was convinced I was too pale to wear gold. I don't know where I got that idea from. I don't wear a lot of jewelry - a silver necklace my sister gave me for being in her wedding, my white gold wedding ring, and white gold & diamond earrings Jerry gave me for our first married Christmas - but every once in a while I mix it up with some of my old Premier stuff, or something my mom has made. I really like these too:
2. What is your favorite candy?
Answer: Chocolate - Whoppers; non-chocolate: Wild Berry Skittles
3. Best book you've read recently.
Answer: The Outlander series by
Diana Gabaldon
. I cannot get enough. She's writing the 8th book now and they are making a TV show based on the first book set to premiere in Summer 2014.
4. Link and/or photo of a handbag that you are currently coveting.
It's only $600...
5. A sentence or two describing a happy memory from your childhood.
Answer: I have two. 1) My dad got a new work van and before he put all the tools in, he spread out a carpet remnant in the back and let my sister and me sit back there and play egg while he drove it around. 2) One night when I was maybe 10, my mom and my sister and I had just gotten into the car after shopping at the mall. It started to snow and we turned on the radio and the weather guy said we could get some accumulation. My mom said "Hot damn!" and then she let us say "Hot damn!" too. I thought it was so cool that I got to "cuss".
6. Three favorite online shopping websites.
Answer: I don't do a whole lot of online shopping, but usually it's for the girls, so probably
Crazy 8
,
Amazon
, and I like to do a lot of "window shopping" on Target's
website
.
7. Something that you learned recently.
Answer: This morning I learned to make sure that YOUR gas pump (and not the person's on the other side) has finished pumping before you take the nozzle out. I also learned that the gas smell doesn't come off your skin even after a second shower...
8. Beauty product you can't live without.
Answer: hahaha. Well I don't wear makeup unless it's a special occasion, and I very rarely do anything but blow-dry my hair, so I'm gonna say
St. Ives Apricot Scrub
. As a former acne sufferer, I have tried just about every face wash on the market, and St. Ives is the best I've found for my skin.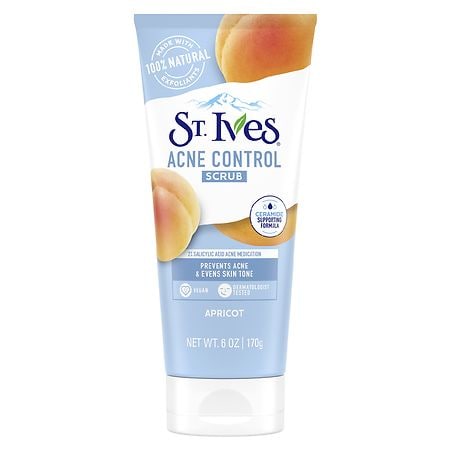 9. A pet peeve.
Answer: I have so many, I can't think of one. Most of mine have to do with people who drive like idiots.
10. What is your favorite season of the year?
Answer: Fall. Hands down.
Blogs I'm Nominating:
Questions I'm Asking:
1. What was your dream car when you were a teenager? Did you ever get it?
2. What is your favorite fast food diet splurge?
3. Have you ever broken a bone? How did it happen?
4. What is your biggest fear?
5. What is your least favorite holiday & why?
6. How many times did you have to take your driver's license test?
7. If you won a million dollars, what would you buy first?
8. What is your most embarrassing childhood memory?
9. If you could time-travel, would you go to the past or the future?
10. Where were you when you had your first kiss? (not geographically, but for example: in a car, by the lake, top of the Eiffel tower...)
I hope some of the ladies I nominated will do this. It will be fun to read the responses!! Thanks again,
Megan
for nominating me. I feel so special!!