Linking up with the lovely Jasam from
The Opulent Owl
for Weekend Highlights!
SO! My weekend. Let's just get right into it because it was...awesome.
Friday night:
We babysat our niece, Lana, and nephew, Jeffrey. It was fun. Until around 3:30am, when Jeffrey woke up. And then Caroline woke up. Then I had to wake Lana up to occupy Jeffrey (because he wouldn't let me put him down) so I could get Caroline back to sleep. Ended up having to call Jerry home from a party (he's on night shift mode so he wouldn't have been going to sleep anytime soon anyway) to sit up with Jeffrey until he went back to sleep. Both babies got back to sleep around 5am, and then Emily woke up at 6am. Then Caroline woke up at 6:30. WTAF?!
Saturday:
We were all tired. Jerry had MAYBE 3 hours sleep and I had about 5. I took Emily (the only person in the house who had gotten a full night's sleep) to Target and HomeGoods so that Jerry and Caroline could nap. Then we went to a birthday party at Jerry's aunt's house around the corner. Got to bust out the double stroller for the walk!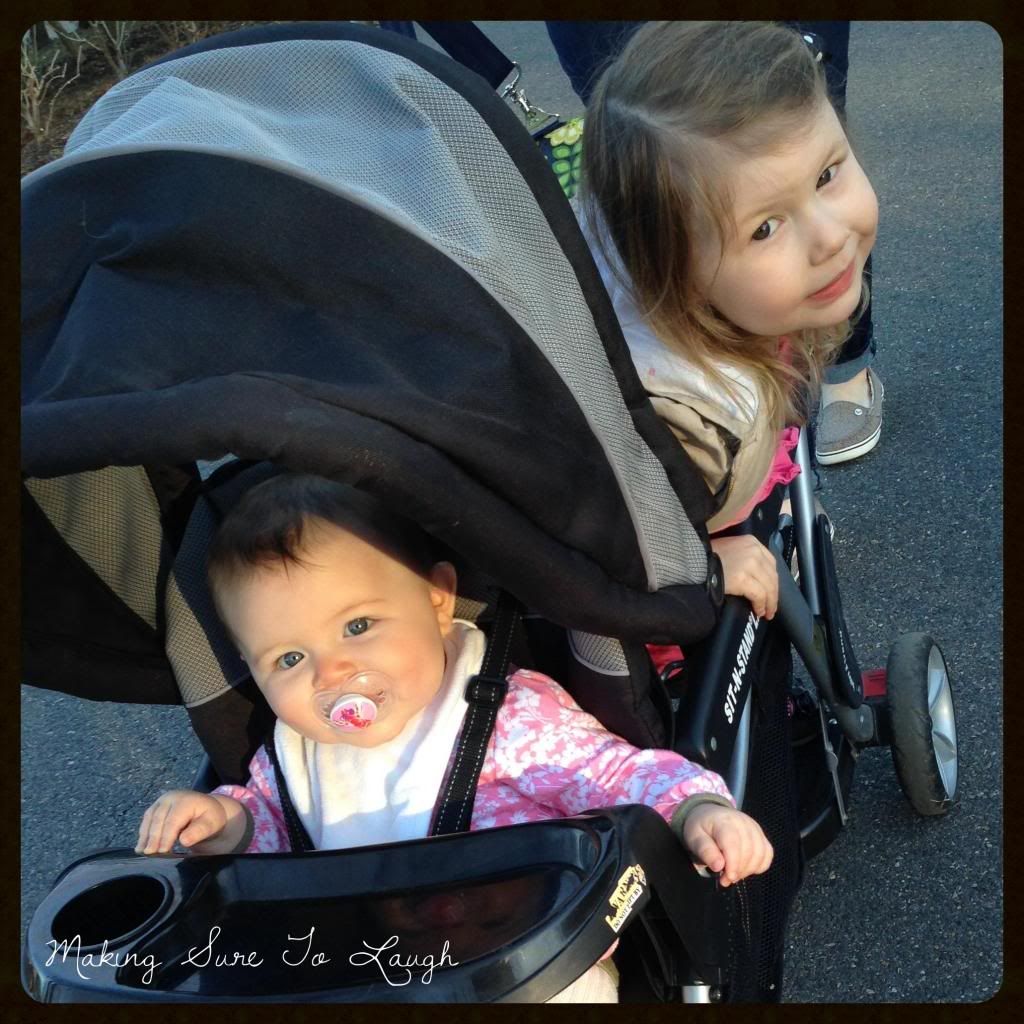 The party was fun -- even though it was about 95 million degress in the house. We did make your own pizzas and had cake & icecream. Yum. I did have a couple pieces of celery and did NOT finish Emily's cake, so I call that a win on the health front.
Sunday:
Both girls got up super early again (why is it that I have to wake them up during the week but on the weekends they are up before the damn sun??) so I ended up sneaking a nap with Caroline from about 9:30-11. Then we had lunch and went to the park. Jerry is the co-founder of a pick-up football league, but hasn't been able to play because of his back. He set up a game between his league and acouple guys (and a girl) from
ChiveMD
. Since I've been trying to move my chubby self and get healthy, Jerry suggested I play. So I did... well I guess you could call it playing. I basically just "covered" the only other girl playing, and ran wherever she ran. I was handed the ball one time and got about two feet before I was tagged.
I made one defensive play, by tagging the guy who had the football -- because he just happened to be standing next to me when he caught it. Jerry insists I will get better with time. I told him I'd try again. At least it does feel like a total body workout.
Then Sunday night:
I was totally unprepared for last night's Downton episode to be the finale. At around 10:05 I realized it wasn't only an hour long, and then when it ended and there was no "Next time, on Downton Abbey..." I picked up my phone and Googled it -- sure enough, Season 4 Finale. Crap. BUT I think Parenthood is coming back this Thursday, so there's that.
So what did y'all do this weekend?