Mommy: "Emily, do you know what Valentine's Day means?"

Emily: "Ummm, hawwuts?" (hearts)

Mommy: "Yeah, but it also means telling all the people you love, how much you love them."

Emily: "Aww. I love you Mommy."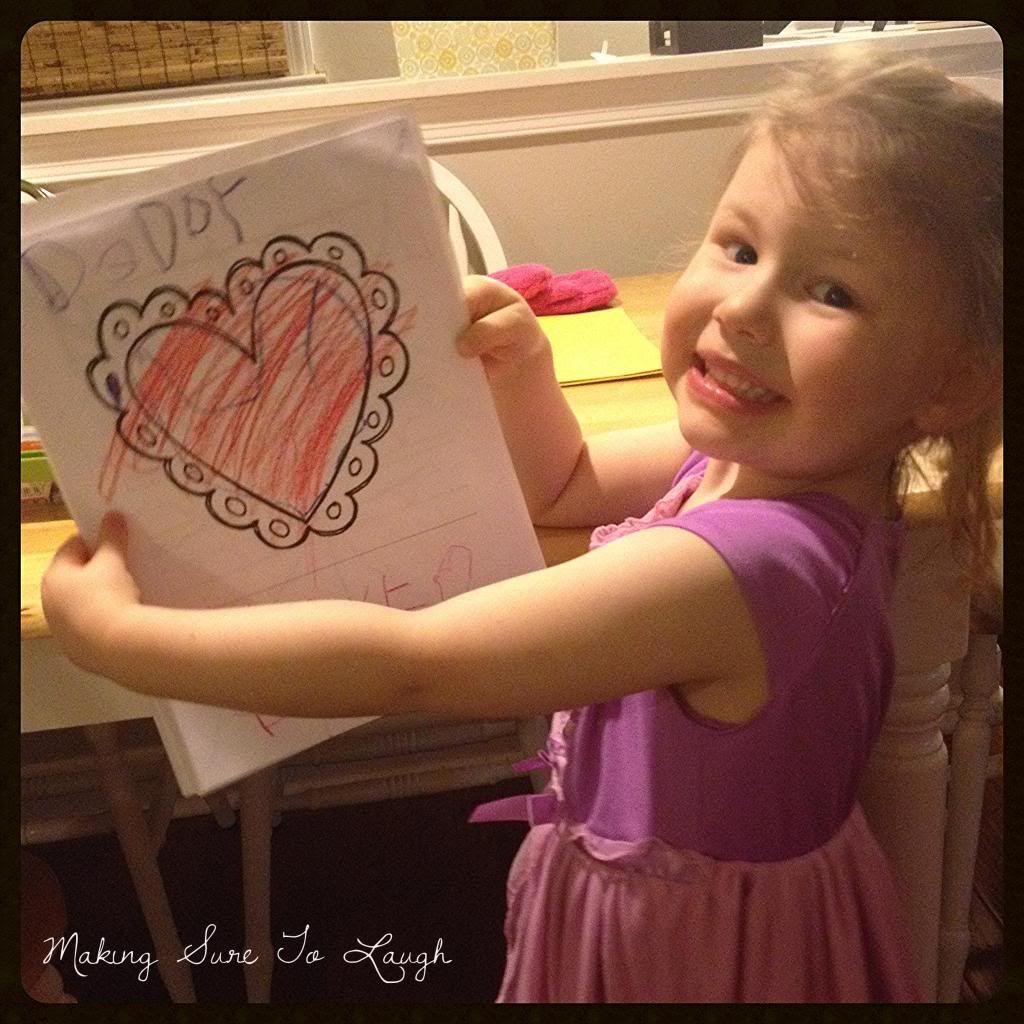 Proud of her "present" for Daddy. I told her what letter to write and she made each letter herself. So big.


Wednesday night, Emily helped me make dipped pretzel treats for her daycare Valentine exchange. I couldn't find any card-type valentines that didn't come with a bookmark, pencils, a pad of paper, etc and that came in a pack less than 30. There are five "big kids" at daycare, including Emily. So I certainly didn't need 30 Sofia the First valentines with a ruler bookmark... I was planning on making dipped pretzels for her "class" anyway, and I had some pretzel treat bags leftover from Christmas, so I just turned them into valentines for her little friends by using some Spritz gift tags from Target. Emily helped by putting way too many sprinkles on each pretzel. I hope the other daycare parents don't kill me.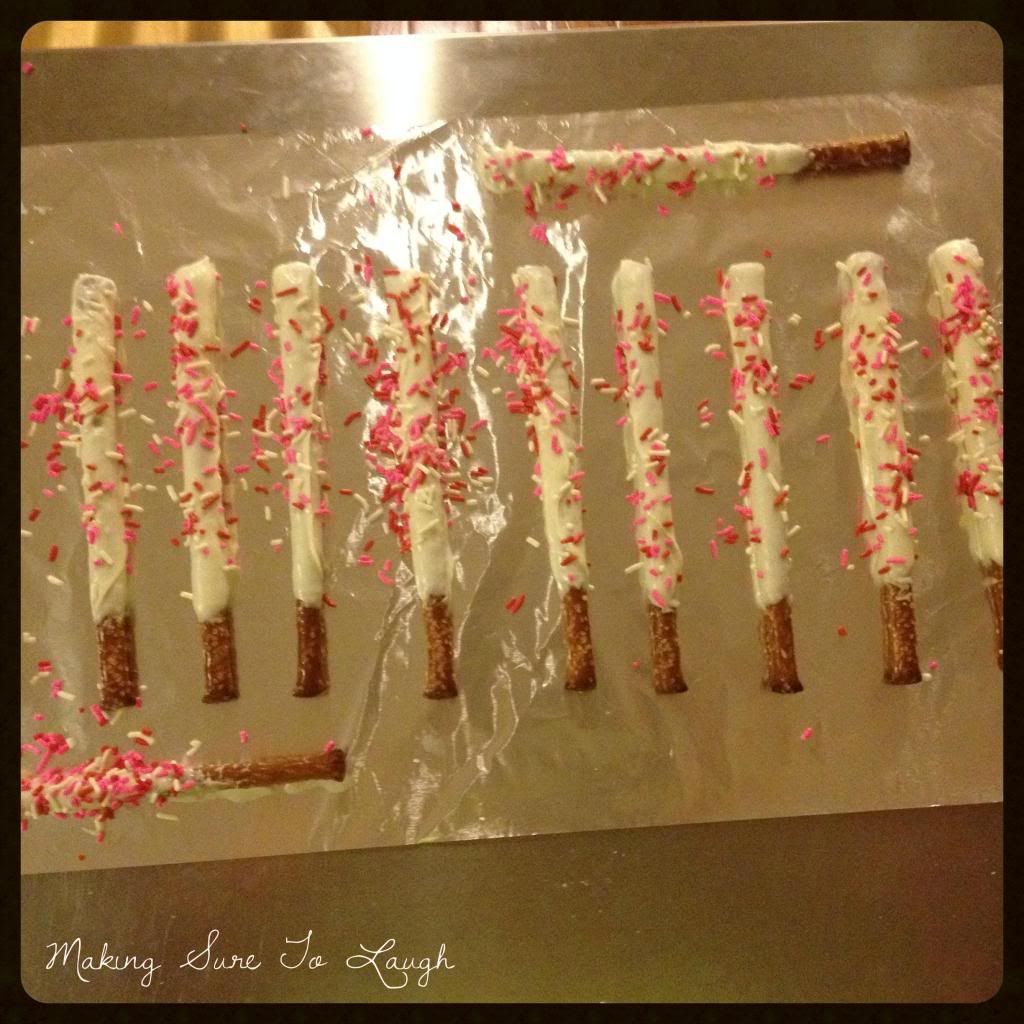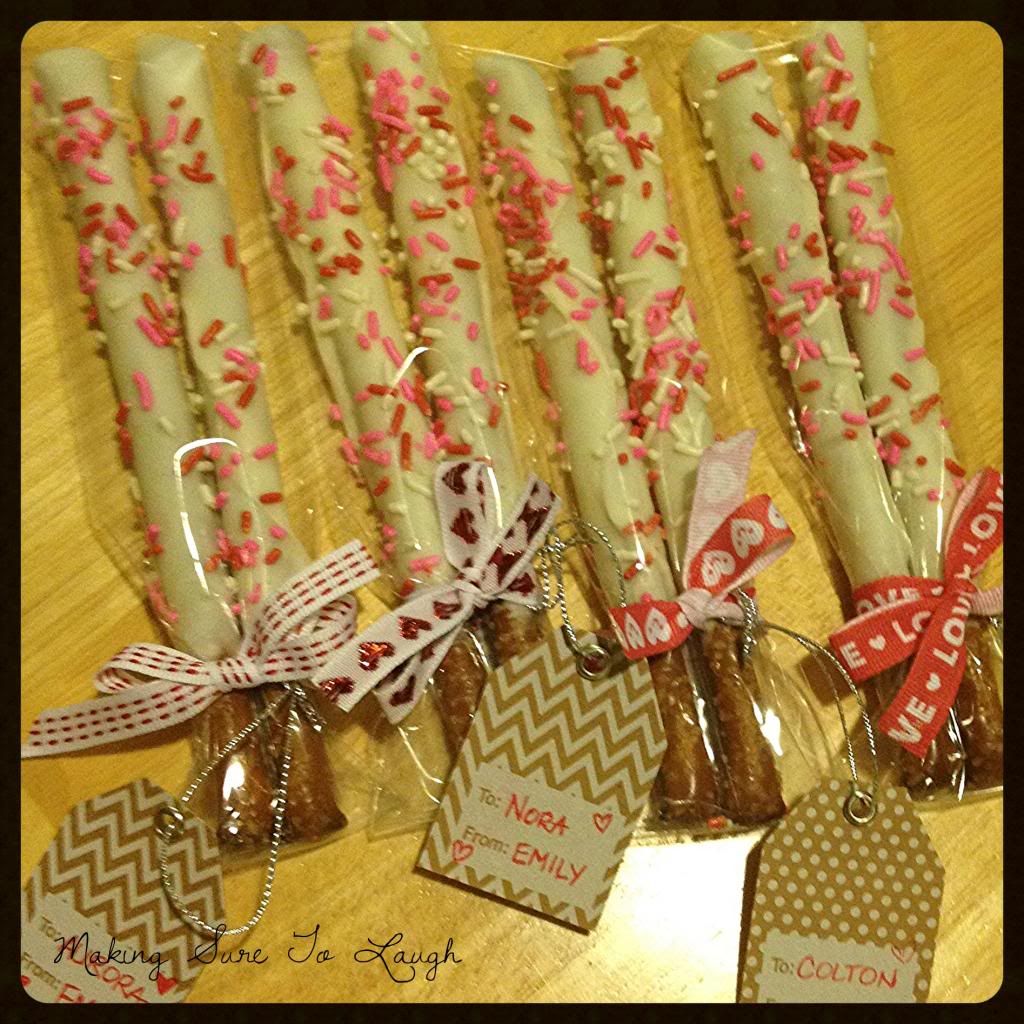 I grabbed a couple $1 Russel Stover candy boxes and attached a pretzel treat to each one and called it good for the daycare teachers.
I'll take some sugar with my sugar, and make sure you add sprinkles...




I didn't do anything crazy for the girls. All of this came from the Target $1 Spot. For Caroline, because she doesn't know the difference and prefers to chew on anything you give her, I just got her a little Valentine's rubber duckie. For Emily, I grabbed a $1 bucket, some Sofia the First socks, those little hearts are stackable crayons (there are five colors on each one and you just pull them apart and put the one you want to use on the bottom and snap), a little bendy red rose and some mini M&Ms.



When Emily saw the bucket she said "WOW! Thank you Mommy! Aww, happy ValenTIMES day!"
My attempt at a cute "Pin-worthy" breakfast.
For breakfast, Emily got (frozen) pancakes, cut with a little finger sandwich & fruit cutter thingy (got it through a fundraiser one of our nephews was doing; it's very handy), and some strawberry applesauce (for no other reason than because it's pink). I can't wait to put this on Pinterest next to all the elaborate themed meals some moms make.
Emily insisted on wearing a teal dress with black leggings, even though I wanted to put her in a cute pink sweater with hearts all over it. Her reaction when I held it up: "No fank you, I wanna wear dis" OK.
Caroline was a little bit more cooperative -- yeah she doesn't have a choice what she wears, but at least she didn't spit up or have a blow out in it as soon as I put it on her (#itshappened).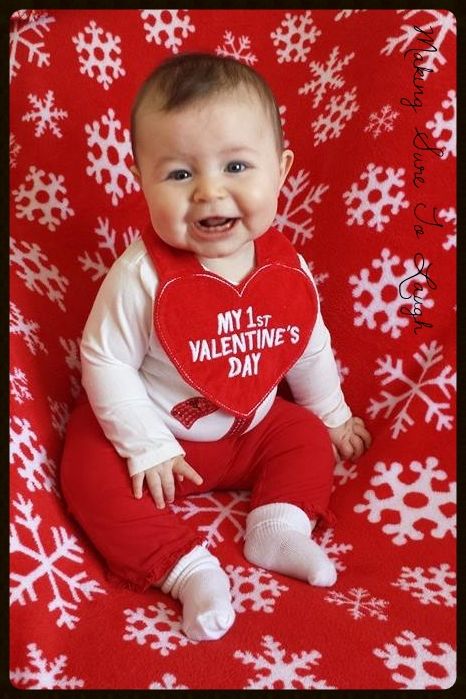 This really isn't a studio photo.
This is the exact outfit Emily wore on her first Valentine's Day. The pants are a little tighter on Caroline ;) She is the happiest baby!
And, this was a couple days ago, but it fit in with my theme of LOVE!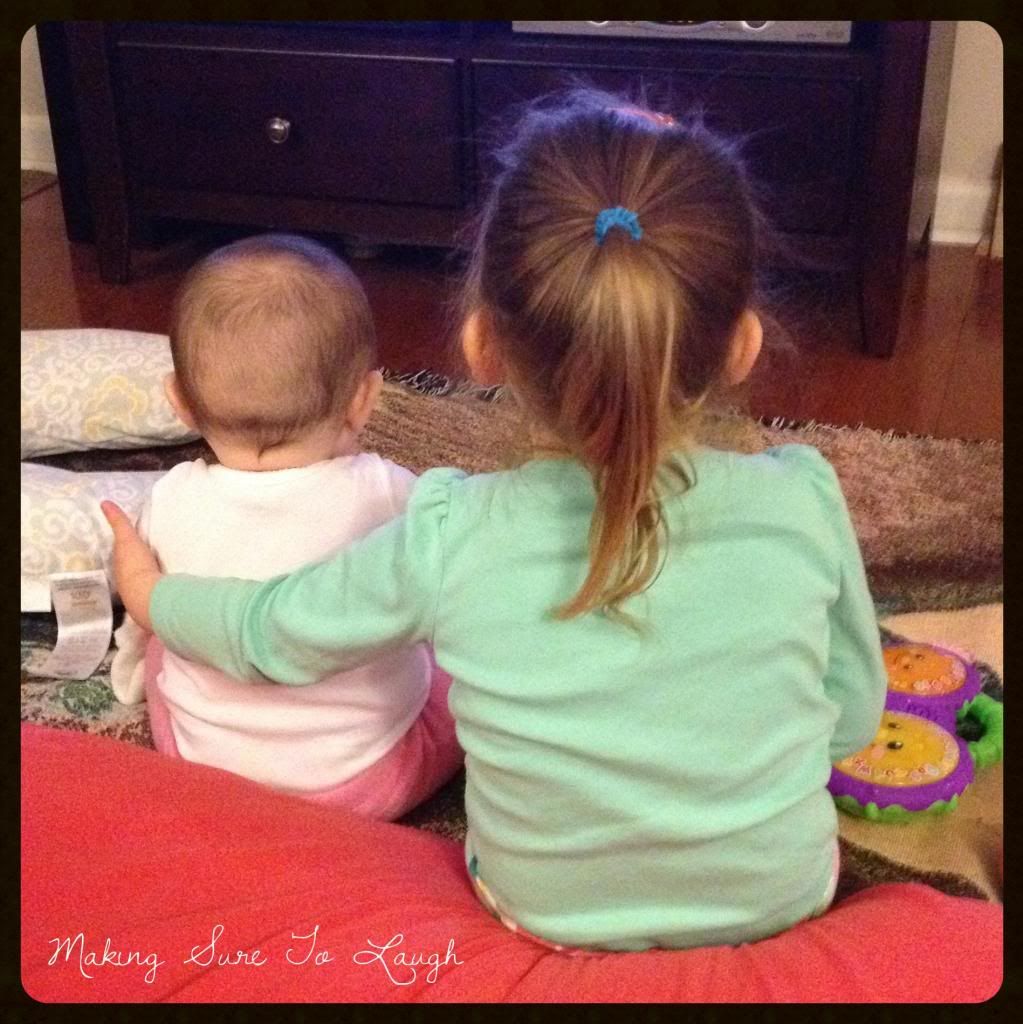 Stop it. I can't. I swear this was NOT staged. I was just quick enough to catch it (as in, I already had my phone in my hand because I was playing Candy Crush and was able to get into the camera app fast enough).
And for Jerry, I'm considering this card:
Happy Valentine's Day everyone!!
Also, my blog friend,
Billie Jo
, from The Louden Family,
has nominated me for a Liebster Award
. So I'm working on my
acceptance speech
response post and hopefully will have that up in the next couple days. Because, I know, you guys cannot WAIT to read more useless trivia about meeeee! :)